If eliminating animal products is new for you, you are likely going to be completely changing your grocery shopping routine! Read on for a categorized plant-based grocery list of healthy, whole-food items you can get at the store.
Of course, you don't need to buy all of these items at once! They are simply ideas, and you should pick and choose which items to buy each week, based on the meals you plan on making.
What is a plant-based diet?
Before we take a look at the list, let's briefly go over what a plant-based diet is…
A plant-based diet is very simply a diet that consists of food that comes from plants! Some people eat a mostly plant-based diet and continue to eat some animal products occasionally. However, a completely 100% plant-based diet eliminates all animal products.
This means no meat of any kind, no dairy, and no eggs. For many people transitioning to a plant-based diet, this seems nearly impossible! But once you get the hang of it, it's not that difficult.
So, a plant-based diet eliminates animal products, but that alone doesn't necessarily make it healthy. You can still eat plenty of packaged chips, cookies, and processed vegan meat replacements on a plant-based diet if you so choose.
To get the full health benefits of eliminating animal products, I suggest focusing on a whole-foods plant-based diet. This focuses on unprocessed foods or very minimally processed. What does processed mean? Well-known plant-based doctor, Michael Greger simply explains it as, "nothing bad added, nothing good taken away."
This means that a whole food can be minimally processed, but still healthy enough for a whole-foods plant-based diet if the processing does not remove anything beneficial or add anything bad.
The items on this plant-based grocery list focus on what you need for a whole-foods plant-based diet. If you make the personal decision to include some processed foods or animal foods from time to time, go ahead and add those items to your list as well.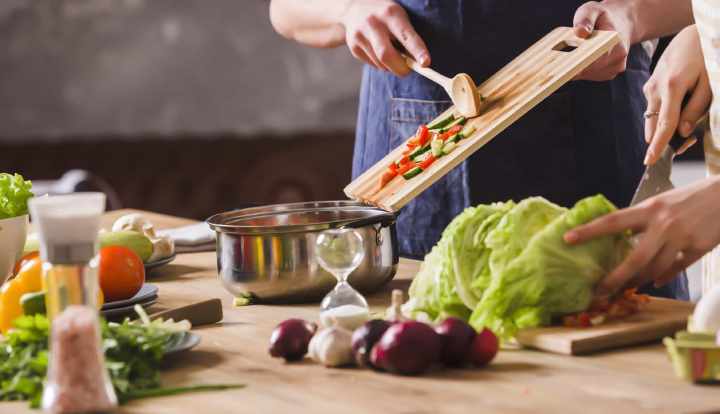 Suggested read:
Vegetarian diet for weight loss: Food list and meal plan
Plant-based grocery list
Note: If you are gluten-free or have any other allergies, sensitivities, or food preferences, you must always check labels and ingredient lists on store-bought foods. The only dietary restriction in this list is that everything is plant-based, so always do your research before purchasing something if you have other dietary restrictions. For example, many whole grains such as oats can be cross-contaminated with gluten, unless labeled as certified gluten-free.
Whole grains
Brown rice
Wild rice
Quinoa
Barley
Millet
Bulgur
Oats (any kind, with no additives)
Buckwheat
Whole-grain tortillas (oil-free whole wheat or corn, these can be used to make tortilla chips)
Whole-grain wraps
Whole-grain pasta (made with 100% whole wheat, brown rice, quinoa, etc.)
Whole-grain bread
Rice cakes
Crackers
Whole grains will make up a large part of your diet if you are eating whole foods plant-based. Ideally, your meals will be half vegetables, one-quarter beans, and one-quarter grains. You should strive for at least 3 servings of whole grains per day.
For a whole-foods plant-based diet, make sure you check the ingredients on grain products to ensure no added oil, sugar, or anything else processed.
Some of my favorite ways to eat grains are oatmeal for breakfast with some fruit and peanut butter, and as grain bowls. Grain bowls are super easy to make. Just cook up your grain of choice (I like brown rice or quinoa), add some leafy greens and any other vegetables of choice, add some beans, and top it all with salsa or an oil-free dressing!
Suggested read: Vegetarian keto diet plan: Benefits, risks, food lists, and more
Beans and other legumes
Red kidney beans
Black beans
Pinto beans
White kidney beans
Chickpeas
Lentils (any kind)
Peas
Navy beans
Beans are a great source of plant-based protein. They are the main protein source for many people who eat a strict, 100% plant-based diet. Beans are also high in iron, zinc, and fiber. Add beans to your grain bowls or make some oil-free hummus to get at least 3 servings of beans into your daily diet.
You can buy dried or canned beans. If buying canned, make sure there is no added salt. Canned beans are more expensive, but they are great to have for when you want to quickly add beans to a meal.
Vegetables (fresh and frozen)
Cruciferous
Arugula
Broccoli
Cauliflower
Kale
Collard greens
Brussels sprouts
Cabbage
Mustard Greens
Other non-starchy vegetables
Spinach
Romaine
Green beans
Zucchini
Carrots
Asparagus
Celery
Cucumber
Peppers
Mushrooms
Onion
Garlic
Tomatoes (tomato is a fruit, but fits better in the vegetable category)
Starchy vegetables
Vegetables should make up a very large part of any healthy diet. You should try to get at least 5 servings of vegetables per day, and it's best to include leafy greens and cruciferous vegetables.
Cruciferous vegetables are especially nutritious due to their sulforaphane content. Dark leafy greens are high in antioxidants, and you should try having at least two cups per day.
It's super easy to add some spinach to a fruit smoothie. If you add enough fruit, you won't even taste the spinach at all!
It's also easy to add some leafy greens to a grain bowl. If you have a tasty dressing, you will love eating your greens!
If possible, buy organic produce because organic farming practices avoid pesticides and antibiotics. Organic produce also has a higher percentage of antioxidants, but don't stress if it's too expensive for you. Non-organic produce is always better than none at all!
Suggested read: Gluten foods list: List of what to avoid and alternatives
Fruits (fresh and frozen)
Apples
Oranges
Pears
Bananas
Raspberries
Blueberries
Cherries
Strawberries
Kiwis
Mango
Pineapple
Watermelon
Apricots
Avocado
Grapes
Peaches
Lemons
Limes
Grapefruit
Honeydew
Kumquats
You should incorporate fruit into your diet every day. 3-4 servings per day is a good goal, and you should try to make at least one of these servings berries. Berries are particularly high in antioxidants, but all fruit is beneficial for your health!
Limit juice because it removes fiber and other nutrients. If you like dried fruit, try to find some with no added sugar, or you can make your own with a dehydrator.
An easy way to incorporate fruit into your diet is to add some to your oatmeal, or just chop it up and eat it as a snack. Having apples with peanut butter is also delicious!
It's always nice to have some frozen fruit at home as well so that you can make some delicious fruit smoothies!
Nuts and seeds
Peanuts
Almonds
Walnuts
Cashews
Brazil nuts
Pistachios
Sunflower seeds
Flaxseeds
Chia seeds
Hemp seeds
Pumpkin seeds
Sesame seeds
Nut butter (all-natural, with no added oil or sugar)
Nuts are so versatile and can come in handy when making sauces and dips for a plant-based diet. Cashews are especially great for making creamy dressings.
When purchasing nuts and seeds, it is best to ensure that there is no added sugar, salt, or oil. The same goes for nut kinds of butter.
A simple way to get a serving of nuts into your diet is by adding some peanut butter to oatmeal or having a nut-based dressing on a salad or grain bowl.
Herbs and spices
Basil
Sage
Thyme
Oregano
Dill
Paprika
Cayenne
Curry powder
Onion powder
Garlic powder
Italian seasoning
Black pepper
Chili powder
Pumpkin pie spice
Nutmeg
Cinnamon
Turmeric
Cumin
Cardamom
So many people seem to think that plant-based food is bland. Maybe they aren't using enough herbs and spices! Herbs and spices add amazing flavors to any dish, and they are also full of nutrition.
Add cinnamon to your oatmeal, sprinkle some chili powder on a burrito bowl, add some turmeric to your tofu scramble, the options are endless!
Baking ingredients
Baking on a plant-based diet will require some different ingredients that you may not be used to using for baked goods. Here are some items that I regularly have in my kitchen for baking:
Suggested read: A keto diet meal plan and menu that can transform your body
Flour (whole wheat, oat, almond, coconut, amaranth, barley, brown rice, quinoa, etc.)
Cacao powder
Pure maple syrup or blackstrap molasses
Dates
Date powder
Raisins
Baking soda
Baking powder
Vanilla extract
Unsweetened applesauce
Other foods and ingredients
Here is a list of items that don't necessarily fit into any of the categories above. Many of these items are great for cooking.
Nut milk (unsweetened)
Tofu
Tempeh
Mustard
Hot sauce
Salsa
Miso
Vegetable broth (low-sodium, no added oil)
Canned tomatoes and tomato sauce (no added salt or oil)
Vinegar (balsamic, apple cider)
Hummus (oil-free, make your own if you can't find any!)
Soy sauce or tamari sauce
Nutritional yeast
What should you drink?
On a healthy plant-based diet, you should focus on drinking plenty of water, and not much else. You can also incorporate some teas and pure fruit juices, but keep in mind that fiber and other nutrients are lost from fruit when it is juiced, so whole fruits are better than juice!