Is cheese vegan?
No, cheese is not vegan.
Traditional cheese is made from cow's, goat's, or sheep's milk, which are animal products. Since vegans don't consume any animal products, milk-based cheese is definitely not vegan.
Cheese is the reason for many people why they can't stick to a 100% plant-based diet. I mean, who doesn't love cheese?
The good news is that you can make delicious plant-based cheeses that taste almost exactly like real cheese. Additionally, it's healthy, inexpensive, and also suitable for lactose intolerants!
What is vegan cheese?
Vegan cheese has the same consistency as a classic cheese sauce. It serves great with tortilla chips but can also be used to make pizza or lasagna.
Besides, it's cholesterol-free, good for your health, lower in fat, and extremely tasty. It's basically made with potatoes, carrots, oil, water, and some condiments.
Vegan cheese recipe
Give this delicious and healthy vegan cheese a try. You will not regret it!
Ingredients for vegan cheese
Here is what you'll need to make vegan cheese:
2 cups potatoes (360 g), peeled and diced
1 cup carrots (135 g), peeled and diced
1/2 cup water (125 ml)
1/2 cup nutritional yeast (35 g)
1/3 cup extra virgin olive oil (70 g)
1 tbsp lemon juice
1 tsp salt
1/2 tsp garlic powder
1/2 tsp onion powder
Instructions
Making vegan cheese is super simple and can be broken down into 3 steps:
Boil or steam the potatoes and carrots for about 20 minutes or until soft.
Drain them and add them to a blender.
Add all the remaining ingredients and blend until smooth.
Overall, preparation and cooking time will take around 30 minutes.
Serving ideas
You should serve the vegan cheese immediately.
The vegan cheese is excellent as an appetizer or even a snack to serve with tortilla chips or pita bread.
You can also use vegan cheese to make pizza or lasagna. Basically, every recipe that needs some cheese.
Additional tips
If you keep the leftovers in a sealed container in the fridge, it will last around 4 to 5 days.
You can freeze the vegan cheese. If you want to defrost the vegan cheese, transfer the frozen container to the fridge the night before. And then reheat it in a saucepan and add some water or milk if needed.
Try using different types of potatoes to give it a slightly different taste.
You don't need to add oil. If you're making the vegan cheese without oil, just add more water or any unsweetened milk of your choice.
If you love eating spicey, add a bit of cayenne powder to the mix.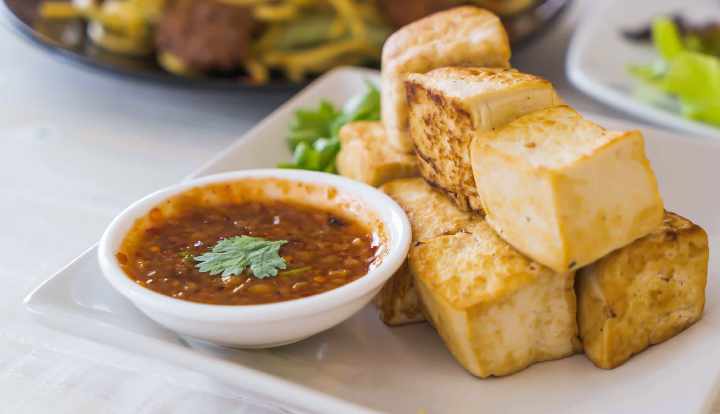 Suggested read:
Easy and fast fried tofu recipe