We all love a decadent dessert after dinner or a sweet breakfast treat on the weekends.
But if you're vegan, you can't use eggs, butter, milk, meat, or any other animal byproduct.
That's what makes the idea of vegan baking intimidating. How am I going to make a cake without eggs or butter? But believe it or not, vegan baking is a lot easier than you may think. With a little innovation and creativity, you'll be surprised at how simple and delicious vegan goodies can be.
Vegan baking substitutes
Vegan baking substitutes are very easy to come across. While they're everywhere, you have to know where to look.
You can find a lot of vegan options and substitutes in the organic section of your grocery store. Eggs, milk, and butter are the three main non-vegan ingredients used in many traditional dessert recipes, so you're going to have to replace them if you plan on making a vegan dessert.
Eggs
Vegan egg substitutes aren't necessarily made to taste like eggs (though some are), but rather to replace their function. Eggs are the binding ingredient in desserts. And importantly, they're the leavening agent in baked goods: Eggs help them rise and expand in the oven.
General grocery stores have vegan egg substitutes. Typically, you'll only have to add water to the designated amount of egg substitute needed. Here's a list of my favorite vegan egg substitutes.
Each of the following mixtures and foods is equivalent to one egg:
Flax eggs
Mix 1 tbsp. of flaxseed with 3 tbsp. of water. Blend until thick and creamy.
Banana
Chia seeds
Mix 1 tbsp. of chia seeds with 1/3 cup of water.
Soy protein powder
Mix 1 tbsp. of soy protein powder with 3 tbsp. of water.
Butter
Butter is used in almost every type of baked good. It's a must in baking. You'll find it in brownies, cupcakes, cookies — you name it, it's there.
Luckily, finding vegan butter is as simple as picking up a different — but maybe surprising — ingredient.
Here are some vegan butter options to try:
Avocados
Mashup 1 cup of avocado to substitute 1 cup of butter.
Tip: Try using a food processor to puree the avocados first.
Coconut oil
Coconut oil is a 1:1 ratio to butter, so essentially 1/2 cup of coconut oil is equivalent to 1/2 cup of butter.
Coconut oil usually comes in a solid form, so you'll need to work with it a little.
Tip: Homemade coconut butter is really simple to make. Check out this recipe for homemade coconut butter.
Silken tofu
Silken tofu works great in place of eggs in dense baked goods like brownies, quiche, and custards. One egg equals 1/4 cup of pureed silken tofu.
Tofu only adds moisture, so you'll need to add baking soda or baking powder to your recipe.
Milk
Believe it or not, there are so many vegan milk options. Many vegan milk substitutes out there are made from nuts. You can also make your own vegan milk. Check out this recipe for homemade cashew milk.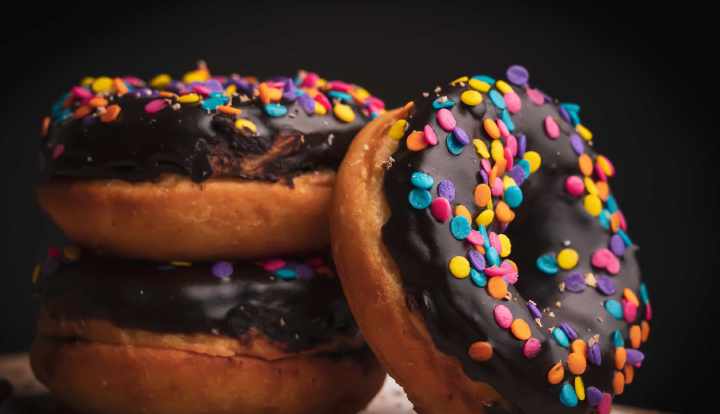 Suggested read:
Are donuts vegan?
But if you're allergic to nuts, you can use soy-based milk. And if you're allergic to soy or not a fan of the taste, you still have options, like coconut milk! As I said, there's a never-ending list of vegan milk. Here are my favorites:
Almond milk
Almond milk comes in many different flavors like vanilla, chocolate, and unsweetened.
Soy milk
This is a great option if you're allergic to nuts.
Tip: Make your own soy milk at home: Homemade soy milk
Coconut milk
Coconut milk is commonly used to make vegan ice cream.
Cashew milk
Cashew milk is similar to almond milk but thicker and creamier.
These are just some of the most commonly used vegan substitutes for milk, butter, and eggs, but they're not all of them. It's a good idea to try out various substitutes to see which ones do well in certain recipes.
Once you start baking, you'll know which ones work better for which recipes and why.
Vegan dessert recipes
Vegan desserts can be difficult to come by at a restaurant or grocery store. And most people insist on using butter, milk, and eggs to create a yummy and creamy dessert at home.
But you can still have a decadent and sweet dessert with vegan substitutes.
Here are some of my favorite vegan recipes that I love making:
Vegan banana pancakes
These vegan pancakes are a perfectly sweet kick-start to your morning.
Ingredients
1 cup Bisquick pancake mix
1 cup of chopped apples
A pinch of salt
1 tsp. vegan oil (like vegetable or canola oil)
2 tsp. vegan butter
1 tsp. lemon juice
A ripe banana, mashed
1 tsp. white sugar
1 cup water
Maple Syrup (optional)
1 cup boiled vegan milk, like soy or almond milk (optional)
Recipe
First, in a large bowl mix your pancake mix and about 1/2 cup of water until it reaches a thin consistency. You can add more water if it is too thick. You can make the batter thicker by adding more of the pancake mix or cornstarch. Add some white sugar for extra sweetness if you desire. Stir the batter thoroughly with the help of a spoon or fork so that it blends well and leaves no lumps.
Suggested read: The 10 best substitutes for heavy cream
Next, take your mashed banana and fold it into your batter. Make sure to use a fully ripe banana so that it tastes sweet. Now it's time to make your pancakes. Coat your large pan in your vegan oil. You can also use vegan butter to oil up your pan.
Next, using a ladle, pour a small quantity of the pancake mixture into the pan. When small bubbles start forming on the surface of the pancake, flip your pancake and cook over medium heat for a minute until golden brown. Repeat until you have used all of your pancake batters.
Now it's time to make the caramelized apples! In a saucepan, add a tablespoon of vegan butter and let it get to a simmer. After the butter melts add the chopped apples, the sugar, and a pinch of salt. Add the lemon juice and stir occasionally until the apples soften. When the apples are done, take them off the flame.
Vegan carrot cake cupcakes with cream cheese frosting
Want to add some vegetables to your dessert? Check out these healthy alternative cupcakes.
Ingredients for the cake
1/2 cup brown sugar
1/2 cup white sugar
2 cups grated carrots
1 teaspoon vanilla extract
3/4 cup almond milk/soymilk
2/3 cup coconut oil
2 1/4 cups all-purpose flour
1 teaspoon baking powder
1/4 teaspoon salt
1/2 teaspoon ground cinnamon
1/4 teaspoon ground allspice
Ingredients for the cream cheese frosting
1 cup vegan margarine
12 ounces non-hydrogenated vegan cream cheese
4 1/2 cups confectioner's sugar
1 tablespoon vanilla extract
1 1/2 teaspoons lemon juice
Instructions for the cake
Preheat the oven to 350°F and line your cupcake pan with baking cups. (If you're making a cake, grease your cake pan).
In a large bowl mix together the brown sugar, white sugar, carrots, and vanilla. Add the coconut oil and milk and stir until combined.
In a separate, medium bowl, whisk together the dry ingredients: flour, baking powder, allspice, and cinnamon.
Add the dry ingredients to the wet ingredients. Beat with a hand mixer or stand mixer until fully incorporated.
Begin scooping about 3 tablespoons into each cupcake cup. I use an ice cream scooper to help me determine the amount of batter to use per cupcake.
Put your cupcakes in the oven for about 18-20 minutes, until the tops of the cupcakes are golden brown.
Instructions for the vegan cream cheese frosting
While you're waiting for your cupcakes to bake you can begin the frosting.
Suggested read: Is cocoa powder vegan?
In a large bowl, beat your vegan butter/shortening with a hand mixer until creamed.
Add in the cream cheese and continue beating until incorporated.
Add the rest of the ingredients to the mixture: confectioner's sugar, vanilla, and lemon juice. Gradually add the confectioner's sugar. Beat until fully incorporated and until it has a creamy frosting consistency.
Let your cupcakes cool for at least 15-20 minutes after taking them out of the oven, so the icing doesn't melt off. Ice your cupcakes and you're done!
Vegan sugar cookies
These super soft and chewy sugar cookies are made with a homemade glaze. They'll have you feeling nostalgic again!
Ingredients for the cookies
1 1/2 cups confectioner's sugar
1 cup vegan margarine
1/4 cup almond milk/soymilk
1 1/2 teaspoon vanilla
2 1/2 cups all-purpose flour
2 tablespoons cornstarch
1 teaspoon baking soda
1 teaspoon cream of tartar
Ingredients for the icing
4 cups confectioner's sugar
5 tablespoons almond milk/soymilk
1/2 teaspoon vanilla
Instructions
Preheat the oven to 375°F and grease your baking sheet.
In a large bowl, combine the confectioner's sugar, vegan butter, milk, and vanilla. Stir in flour, cornstarch, baking soda, and cream of tartar. Beat with a hand mixer or stand mixer until fully incorporated.
Roll your dough into 2 inch balls.
Bake for 7-8 minutes or until the sugar cookies are golden brown.
Let the cookies cool before adding your icing. I found it easiest to spread the icing on with a butter or cheese knife. And enjoy!
Vegan coconut ice cream
Cool off this summer with vegan coconut ice cream. It's the perfect satisfying treat that won't make you feel guilty after eating it.
Ingredients
28 oz. (2 cans, 14 oz. each) coconut cream of coconut milk (full fat preferred)
3 Tbsp. melted coconut oil
½ cup organic cane sugar (you can also use maple syrup or agave nectar)
2 tsp. pure vanilla extract
1 vanilla bean pod or ½ teaspoon vanilla powder. If using a vanilla bean pod, then make sure it is split and scraped.
A pinch of sea salt (optional)
Instructions
With a hand or stand mixer, combine the coconut milk, coconut oil, vanilla extract, scraped vanilla bean, organic cane sugar (or the preferred substitute), and sea salt. You can also use a blender to mix the ingredients. Blend all the mixture until it becomes smooth and creamy. The sugar must be dissolved completely.
(Skip this step if you don't have an ice cream maker). Take this mixture and add it to the chilled ice cream maker and churn for about 45 minutes. After 45 minutes, check to see if the mixture has a soft-serve texture and if it does, then it's done. After churning the ice cream, pour the homemade vegan ice cream into a big container (freezer-safe). Use the back of a spoon to smooth out the ice cream. Cover the container and let it freeze for 5-6 hours or until the ice cream gets firm. If you are using an ice cream maker for this recipe, you should be finished at this point!
If you don't have an ice cream maker you can skip step 3 and simply scoop the ice cream into a chilled, non-stick bread pan. Put the bread pan in the freezer an hour prior before adding the ice cream to it. You want the ice cream to go in a chilled container.
Cover the container and let it freeze for about 6-7 hours or until the ice cream gets firm.
When you wish to eat the ice cream, take it out of the freezer, wait 5-10 minutes so that it gets a bit softened. Dip your ice cream scooper in hot water for a no-hassle experience.
Ice cream will remain fresh for 7-10 days, so you can make a good amount of ice cream and store it in the freezer.
Remember, vegan baking is just like regular baking — creativity and passion matters most. If you're intent on baking without animal ingredients, it can definitely be done.
Suggested read: Are brioche buns vegan?