What is seitan?
Seitan also referred to as "wheat meat", is the base for many commercially available vegan products. You can generally find it in various styles, such as ground, in slices, or in strips. Seitan can be prepared by hand using either whole wheat flour or vital wheat gluten. It is made by rinsing away the wheat dough's starch, leaving just the high-protein gluten behind.
How does seitan taste like?
Seitan has a savory taste, similar to bland chicken. Seitan has a mild flavor on its own but can take on many more flavors from different recipes.
The popularity of seitan is due more to its texture rather than its taste. This is especially true compared to other alternatives, such as tofu or tempeh, which don't have a "meaty" texture.
How to cook seitan?
Whether you make it or purchase it, seitan always needs to be cooked to use in a vegetarian or vegan meal. A quick pan-fry with a splash of tamari or soy sauce is one way to cook your seitan. You can simmer it with a bit of curry powder and top it off with nutritional yeast for an enjoyable dish.
Seitan is also great grilled. Just top it with your favorite barbecue sauce and heat it up.
Toss seitan into a pan to get it lightly browned before adding vegetables to make a vegetable stir-fry. You can add seitan to just about any vegetarian curry recipe or add bits to a soup or stew for a plant-based protein boost. Once you get started, you will find many creative ways to use seitan in your vegetarian and vegan cooking.
Homemade seitan recipe
Making seitan at home is really easy if you follow this step-by-step tutorial. You just need to mix all the dry ingredients, add the water, and mix until well combined, then let the seitan rest for a few minutes and cook it for 1 hour. That's it!
Ingredients for seitan
Here is what you'll need to make your own homemade seitan:
1 cup vital wheat gluten (120 g)
1/4 cup whole wheat flour (35 g)
1 tsp garlic powder, optional
1 tsp onion powder, optional
1 cup water (250 ml) at room temperature
8 cups vegetable stock (2 liters)
1/4 cup tamari or soy sauce (65 ml)
A small piece of kombu, optional
Instructions
Making your own homemade seitan is super simple and can be broken down into 3 steps: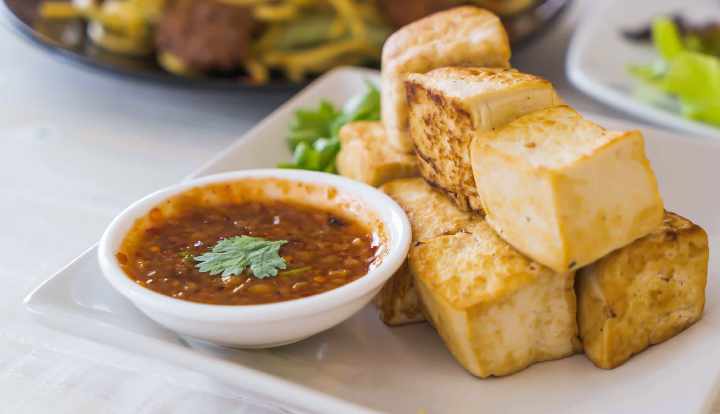 Suggested read:
Easy and fast fried tofu recipe
Add the vital wheat gluten, whole wheat flour, garlic, and onion powder to a bowl and stir until well combined.
Add water and mix until all ingredients are well combined.
Place the seitan in the bowl, and cover it with a kitchen towel.
Let the seitan rest for 15 minutes.
Make a ball with the seitan dough.
Add all the remaining ingredients (vegetable stock, tamari or soy sauce, and kombu) to a large pot, stir, and bring to a boil.
Add the seitan and simmer partially covered for 1 hour. You don't need to stir while it's cooking.
Remove from the heat and allow it to cool a bit.
Your seitan is ready! Seitan can replace meat in any dish or recipe you want, like vegan fajitas, vegan kebab, or skewers.
If you don't use it immediately, you can refrigerate it in an airtight container for about a week. You can also freeze it in an airtight container and will last up to 6 months in the freezer.
Additional tips
This recipe can be made using only vital wheat gluten. Still, we recommend adding some type of flour to give the seitan a better texture. Chickpea flour is also a great choice.
Garlic and onion powder are entirely optional, but they will make your seitan taste even better.
Vegetable stock and tamari or soy sauce give the seitan a fantastic flavor and a beautiful color. If you can't eat soy, just add some salt to taste.
You can make your own vegetable stock from scratch using the veggies you have on hand or even some vegetable scraps. You could use water, but you'll get really bland seitan.
Kombu is a seaweed, and it's also optional. I use it to infuse the stock and make the seitan taste better.
It's crucial to use a large pot as the seitan doubles its size while cooking.
Feel free to cut the recipe in half or double the ingredients if you want. If you make a large ball, it could be a good idea to divide the dough.
Suggested read: How to make soy milk? Easy soy milk recipe