What is honey?
Honey is a thick, golden liquid produced by bees. But how and why are they making it? Bees produce honey from the sugary secretions of plants. They then bring it back to the beehive for eating during times of scarcity.
Is honey vegan?
Commercialized honey is far from being vegan. Here is why:
Honey results from the exploitation of bees.
Many commercial bee farmers employ practices that are unethical by vegan standards to optimize profits.
These include clipping the wings of queen bees to prevent them from fleeing the hive.
Honey is replaced with nutritionally inferior sugar syrups, and killing entire colonies to prevent the spread of disease, instead of giving them medicine
That said, most vegans view honey as non-vegan and avoid eating it.
Do vegans eat honey?
Vegans avoid eating honey to take a stand against bee exploitation and farming practices that are thought to harm bee health.
Can I eat honey when I'm vegan?
Most vegans try to avoid or minimize all forms of animal exploitation. This also includes the exploitation of bees. Therefore, most vegans also exclude honey from their diets.
Some vegans also avoid honey to take a stand against beekeeping practices that can result in harming the health of the bees.
Instead, vegans can replace honey with several plant-based sweeteners. Here are some of the most popular honey alternatives:
Vegan alternatives to honey
Several plant-based options can replace honey. Here are the most common vegan alternatives:
Maple syrup. Maple syrup contains several vitamins and minerals and up to 24 protective antioxidants.
Blackstrap molasses. A thick, dark-brown liquid obtained from boiling sugar cane juice three times. Blackstrap molasses is rich in iron and calcium.
Barley malt syrup. A sweetener made from sprouted barley. This syrup has a golden color and flavor similar to that of blackstrap molasses.
Brown rice syrup. Also known as rice or malt syrup, brown rice syrup is made by exposing brown rice to enzymes that break down the starch found in rice to produce a thick, dark-colored syrup.
Bee free honey. A branded sweetener made from apples, sugar, and fresh lemon juice. It's advertised as a vegan alternative that looks and feels like honey.
Like honey, all of these vegan sweeteners are high in sugar. It's best to consume them in moderation, as too much added sugar can harm your health.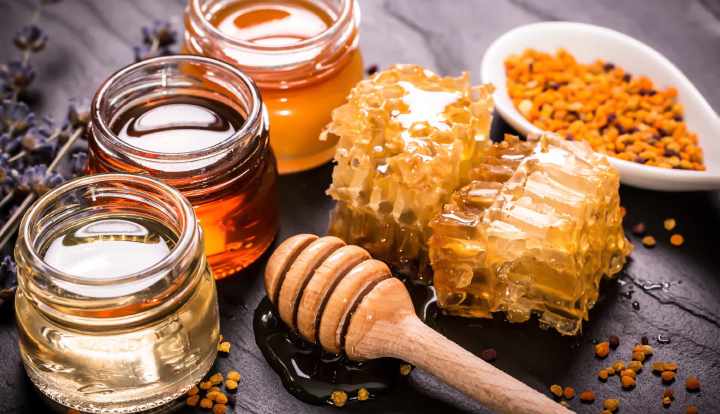 Suggested read:
Honey: Good or bad?