Gnocchi (pronounced no-key) seems to have grown in popularity over the last decade and is now commonly found on restaurant menus and available ready-made from supermarkets.
But is gnocchi vegan? As we will see, we can't give you a straight answer, but the good news is that vegan gnocchis are a thing.
Is gnocchi vegan?
Sometimes yes, sometimes no… it all depends on the variation you're buying.
Gnocchi is a delicious pillow of pasta, usually covered in a tomato or dairy-based sauce. The word stems from the Italian for 'node', which is also applied to knuckles, describing the shape of the rounded, textured dumplings (yes, gnocchi are dumplings).
Gnocchi is traditionally made of potato or semolina, but there are many regional variations and modern interpretations of this classic dish:
The gnocchi we tend to see most often is made with potato, however, the first gnocchi was formed with flour and water.
Other types of gnocchi include Gnocchi Alla Romana, which is made with semolina and baked in the oven, after having been cut into disks and layered in a tray.
Malloreddus, or Sardinian gnocchi, is made with durum wheat semolina, while ricotta gnocchi is, you've guessed it, made with ricotta.
However, the most common recipe for gnocchi uses cooked potato, flour, and egg, which makes gnocchi non-vegan. Other common non-vegan gnocchi ingredients are milk, butter, and cheese.
But as we said in the intro, these non-vegan additions are not essential to produce good gnocchi and as we will see further in this article, vegan gnocchi is very easy to make and many vegan options are available, even at your local supermarket.
How to make sure you get vegan gnocchi
As we've said above, powdered milk, egg, and cheese are the most common non-dairy ingredients to look for in non-vegan gnocchi.
For ready-made supermarket gnocchi, the vast majority is non-vegan, largely using milk powder or being made in factories that also handle dairy or meat products. Additionally, some might have stuffings such as cheese or dairy-based sauces.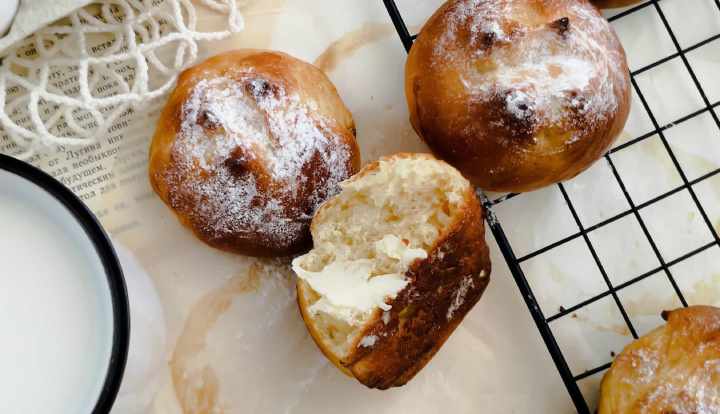 Suggested read:
Are brioche buns vegan?
As for gnocchi made in restaurants, it is generally not vegan unless stated as such. This is because an egg is often used to help better bind the gnocchi together, or cheese can be added to the mixture before cooking.
To ensure you buy vegan gnocchi, the safest option is to look for vegan labeling. Gluten-free gnocchi is often also vegan, so look in the gluten-free aisle at supermarkets.
If the label does not state the product is vegan, you can check the ingredients list and the allergy information. Dairy products are generally highlighted in bold.
Unlike other types of pasta, gnocchi is rarely available in its dried form (usually made of semolina).
Fresh gnocchi, made with potato, is available in small packets and simply needs to be boiled or fried to be ready to serve.
Vegan gnocchi in your local supermarket
Gnocchi is very simple to make from scratch and a great cooking project to do with children; however, it is time-consuming and messy.
So if you want to save yourself the hassle but still enjoy tasty gnocchi, the easiest solution is to buy ready-made gnocchi.
Gnocchi will usually be sold fresh and kept refrigerated.
Not all gnocchi state clearly that they are vegan, so look out for vegan logos or check on the back of the packet to see if they are labeled suitable for vegans.
How to make vegan gnocchi yourself
Homemade vegan gnocchi is surprisingly easy to make:
Suggested read: Vegan baking guide
The process involves creating a dough by mixing cooked potato and flour.
The texture of the dough is very important, ensuring it is not too sticky and not too crumbly.
The dough is then rolled out into a long thin tube. This tube is cut up into small pieces, roughly the size of a cork.
The gnocchi can then be patterned, usually with the back of a fork or other kitchen implement. Not all recipes require the gnocchi to be marked but these grooves help to hold the sauce, adding flavor to the gnocchi.
The gnocchi is then either boiled or fried. Once cooked, a sauce can be added, and it can be served.
In traditional Italian cuisine, gnocchi is usually used as a starter or a side; however, it is often used as a main in modern British meals.
Gnocchi can be used interchangeably with a lot of meals you would use other types of pasta for, meaning you can put a new spin on your old favorites.
It's also great for fancy dinner parties, impressing everyone with your cooking skills.
Mixing other ingredients in with your gnocchi can also help add new flavors to your dish.
Vegan gnocchi recipes
So here are a 3 easy vegan gnocchi recipes you could give a try:
Vegan pumpkin gnocchi
This vegan pumpkin gnocchi is easy to make with just a few simple ingredients. Served with a garlicky zucchini-red pepper sauce and fresh basil sprinkled on top, this colorful dish is a prime example of how simple is best!
Ingredients
1 small pumpkin or squash I used a kabocha squash that weighed just under a kilo (2.2 lbs and gave me 500 grams (1.1 lbs) of puree after it was cooked)
1 teaspoon sea salt plus a few sprinkles for the water and the veggies
¼ cup (4 tablespoons) nutritional yeast
2 cups (256 grams) flour as needed plus more for sprinkling
1 tablespoon olive oil
1 large zucchini diced
1 large red pepper diced
1 large clove of garlic
A small bunch of basil
Pepper to taste
Instructions
Slice the pumpkin or squash in half and scoop out the seeds. Place it cut side down on a microwave-safe plate and microwave on high at 5-minute intervals until it can be easily pierced with a fork. Mine took 10 minutes. Remove and let cool until you can handle it then scoop the flesh out of the skin into a bowl. Let it cool till it stops steaming but is still warm to the touch.
Bring a pot of water to boil with a generous pinch of salt.
To the pumpkin add 1 teaspoon of salt, the nutritional yeast, and a cup and a quarter of the flour (160 grams). Stir together. Add more flour, a quarter cup (32 grams) at a time until you get a soft dough that you can roll into a rope. You can test the dough as you add the flour by tearing off a bit of dough and boiling it to check the consistency. I like my dough to still be a bit sticky to get softer gnocchi rather than add too much flour and get tough ones, but it's up to you how much flour you want to add.
Once you're happy with the consistency, roll the dough into ropes and cut it into pieces. I usually don't bother making ridges in them with a fork but you can if you want to. Keep them under a towel until you finish rolling out and cutting all the dough. Drop them into the boiling water and give them 2 – 3 more minutes after they float to cook through then drain them, reserving a few tablespoons of the cooking water.
For the sauce heat a large pan over medium-high heat and add the olive oil, zucchini, and red pepper. Sautee for a few minutes until softened then add the grated garlic and a sprinkle of salt and fry, while stirring, for another 30 seconds or so. Add the gnocchi and a few splashes of the cooking water.
Serve with freshly cracked pepper and basil on top.
Easy vegan sweet potato gnocchi
The best recipe for Vegan Sweet Potato Gnocchi with only 3 ingredients. It's so easy to make, gluten-free, and incredibly delicious! Serve them crispy pan-fried with oven-roasted tomatoes for a perfect comfort meal!
Suggested read: Are donuts vegan?
Ingredients
Sweet potato gnocchi:
1 large sweet potato (about 600 g)
1 1/3 cup (gluten-free) flour* (170 g) (+more for dusting)
2-3 tbsp nutritional yeast flakes or vegan parmesan cheese (optional)
1/2 tsp salt
2 tbsp vegan butter (to pan-fry)
Oven-roasted tomatoes:
250 g cherry tomatoes
1-2 tbsp olive oil
salt & pepper to taste
3-4 garlic cloves
Topping:
4 tbsp pine nuts
fresh herbs of choice
Instructions
Sweet Potato Gnocchi:
Prick the sweet potato a few times with a fork and microwave until soft, for 7-10 minutes. (Optionally, bake the sweet potato in the oven for about 50-60 minutes).
Peel the sweet potato, scoop the flesh into a bowl, and mash until smooth. Add nutritional yeast/ parmesan + salt and mix until combined. Add the flour and knead gently but don't over knead it or the dough will get sticky. Add more flour if needed but try to add as little as possible to get fluffy and soft gnocchi.
Transfer the dough to a floured working surface, form it into a flat ball and cut into quarters. Take a piece and form a long rope, rolling it along your floured surface. Cut the rope into 3/4-inch (2 cm) pieces and either cook them this way or create distinctive ridges.
To create the typical gnocchi ridges, place the gnocchi at the top of the fork tines and gently press down, rolling it across the fork with your thumb (see pictures in the text above).
Bring a large pot of salted water to boil, add the gnocchi, and cook until the gnocchi float to the top of the water. Drain and optionally, toss with a little olive oil to prevent sticking.
Now you can continue making the recipe to serve them immediately, or refrigerate the gnocchi to serve them later, or freeze them for further meals.
Pan-fried Gnocchi with roasted Tomatoes:
Put the tomatoes onto a baking sheet or baking dish. Drizzle with olive oil and sprinkle garlic cloves throughout. Season with a little salt & pepper and toss to coat. Spread out into a single layer and roast in a preheated oven at 400°F (200°C) for 15-20 minutes.
Toast pine nuts in a small pan without additional oil. Then set aside.
Heat the butter in a large skillet over medium heat until lightly bubbling. Add the gnocchi and roast until golden-brown and crispy on the outside. Season with salt and pepper to taste.
Serve your crispy Gnocchi with roasted tomatoes and toasted pine nuts and sprinkle over vegan parmesan cheese and fresh chopped herbs, if you like.
Gluten-Free Gnocchi
How to make gnocchi without gluten, eggs, or dairy! This gluten-free gnocchi recipe relies on just 3 simple ingredients (plus salt and water) for a simple, flavorful appetizer or main! Once shaped, boil, then fry or bake the vegan gnocchi to perfection!
Suggested read: Seitan: Plant-based meat alternative | Recipe
Ingredients
2 1/4 lbs (1 kg) potatoes (e.g. Yukon Gold), peeled and chopped
1 1/2 to 2 cups (180-240 g) chickpea flour
1 cup (120 g) tapioca flour + more for dusting (see notes)
1/2 tsp sea salt
Instructions
I recommend using a kitchen scale for this recipe. Check the video in the blog post for easy visual instructions.
Peel and chop the potatoes, transfer them to a pot with salted water, and bring to a boil. Cook on medium heat for about 15 minutes or until tender, then drain well. Transfer them back to the pot and mash with a potato masher (don't use a food processor or blender).
Add 1 1/2 cups of chickpea flour and the tapioca flour, and knead with your hands until a dough forms.
The dough might still be a bit sticky, but it should be fine to handle. However, if the dough is too sticky, then add more chickpea flour and knead again. It depends on the type of potato whether you will need 1 1/2 cups or 1 2/3 cups or up to 2 cups of chickpea flour.
Cut the dough into equally sized pieces and dust with a little bit of tapioca flour.
With your fingers, roll each piece to strands. Use a knife to cut the dough into 1-inch pieces and form them into small balls with your hands. You can roll every ball over the back of a fork if you want ridges on your gnocchi (this step is optional). Watch the video above to see how easy it is.
Add the gnocchi to a pot of salted boiling water. Once the gnocchi rises to the surface (after only 2-4 minutes), remove them with a slotted spoon.
You can now serve them with a sauce of choice (check the post for serving suggestions) or fry them for a few minutes in a pan with a little bit of vegan butter or vegetable oil. They will turn crispy and even more delicious.
Summary
So when it comes to gnocchi, there's good news and bad news. The majority of gnocchi sold in restaurants and supermarkets is not vegan.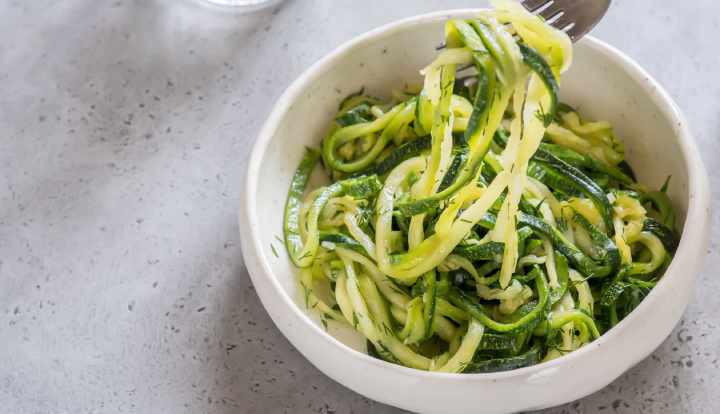 Suggested read:
Top 11 low-carb alternatives to pasta
This is down to commonly used non-vegan ingredients such as egg, milk, and cheese.
However, the good news is that vegan gnocchi is still both easy to find and easy to make (and it can be a great family activity). Indeed, in comparison to making other kinds of pasta, gnocchi can be made by even the most amateur of chefs.
Just like other kinds of pasta, you can mix it up. Try different ingredients when making your gnocchi or add different sauces.
So why not branch out from the same old spaghetti rut and go for something new and exciting.