Cocoa powder is the staple of many cupboards, ready to be added at a moment's notice into cake batter or a wholesome chili sauce.
The ultimate source of this ubiquitous powder is a plant; the cacao tree. This means that pure cocoa powder is vegan. However, does this mean it's reliably vegan?
And beyond that, how can you ensure it is sourced in the most ethical way possible?
Is cocoa powder vegan?
Yes, pure cocoa powder is vegan, but you'll have to make sure it's pure.
Cocoa powder is a common ingredient in many baking recipes, helping to add a rich chocolatey flavor without the complication of adding solid chocolate.
Both cocoa powder and the chocolate itself come from the same starting blocks, the cocoa or cacao bean, which is composed of two main components; cocoa solids and cocoa butter.
To make chocolate, cocoa butter and solids are mixed with sugar and other ingredients such as milk. However, cocoa powder is a much less complex product, without many additives. The main process involved in its creation is the removal of much of the cocoa butter.
To get to this point, the beans must be fermented and roasted. The roasted beans are then ground to form cocoa liquor.
This liquor is a mixture of cocoa solids and cocoa butter. To separate them, the mass is pressed.
Not all cocoa butter is removed, with cocoa powder typically having a range of 8-36%. More expensive cocoa powders will generally have a higher percentage of cocoa butter, making the mixture less bitter.
Cocoa powder can come in two forms, natural cocoa powder or Dutch cocoa powder, the difference being the process by which they are made.
Dutch cocoa powder is mixed with an alkaline substance during processing, usually potassium carbonate or sodium carbonate. This helps lower the acidity of the cocoa powder, making it less bitter. It also allows it to mix into liquids better.
Natural cocoa powder does not include this additional step in its processing.
Therefore cocoa powder is either all cocoa bean or made with inorganic potassium carbonate or sodium carbonate.
So the good news is cocoa powder is vegan, as no animal-derived ingredients are used. However, as you'll see further in this article, cocoa powder is not always sold in its pure form, and sometimes, there are risks of cross-contaminations. This means you might want to look for vegan labels when shopping.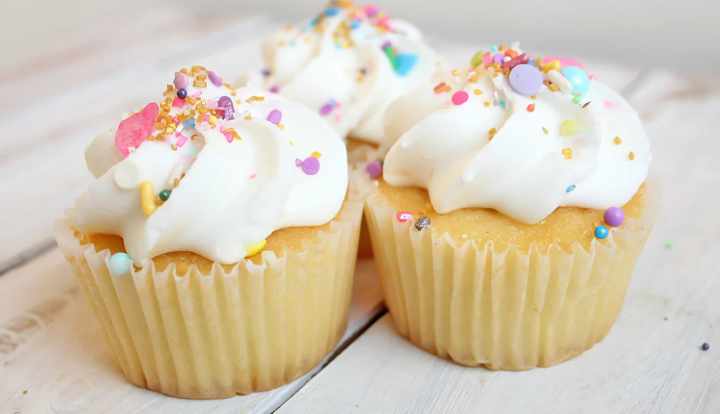 Suggested read:
Vegan baking guide
Is cocoa powder the same as chocolate powder?
Many people get confused between cocoa powder and chocolate powder. However, there are significant differences.
While cocoa powder generally contains nothing but cocoa solids and cocoa butter, chocolate powder includes the addition of sugar and dried milk powder and potential other additives or flavorings.
This is because the pure cocoa powder does not mix well with liquid and is very bitter. The chocolate powder can be combined with hot water or milk to create a popular hot or cold drink.
The good news is that vegan hot cocoa powder is available. Often vegan hot chocolate powder brands forgo the powdered milk to make the product vegan friendly, and several non-vegan brands are now bringing out vegan versions.
Is cocoa powder always vegan?
In general, most cocoa powder is vegan in terms of the ingredients it contains. If no vegan labeling can be seen, it is worth checking the ingredients list for non-vegan additives, especially with cheaper cocoa powder brands.
The other reason why a cocoa powder might not be labeled as vegan, even though its ingredients list does not contain non-vegan ingredients, is the risk of cross-contaminations.
Cross-contamination is where multiple products are made in one place, and the producer can't ensure a small number of ingredients from other products haven't entered theirs.
For example, they may state "may contain milk" if milk powder is used in other products on the same production line.
Suggested read: Are brioche buns vegan?
Such products are highly likely to be vegan, but the manufacturer is not about to guarantee this.
How to make sure it's 100% vegan?
The good news is most cocoa powders have very few ingredients, meaning it's a relatively quick check down the ingredients list to be sure it doesn't contain any non-vegan ingredients.
Another thing to look out for is any allergy information listed for dairy products.
Vegan certification is another good way to be sure your cocoa powder, or other chocolate products, are vegan.
Make sure you're not picking some "instant cocoa" by mistake
Is cocoa powder ethical?
There are multiple reasons for choosing vegan products, from animal welfare to environmental considerations.
Therefore, along with ensuring no animal products are used within your cocoa powder, you should be aware of other environmental and ethical considerations.
The growth of the cacao tree has been associated in the past with the clearance of important natural forests. Additionally, the cocoa industry has been linked with human rights violations such as slave and child labor.
However, new growing techniques are showing the benefits of growing cocoa under the canopy of the forest. And as always, you can look for logos to make sure your cocoa powder is ethical.
The Rainforest Alliance logo, a little green frog, demonstrates the cacao has been grown in an environmentally sustainable and ethical manner.
Fairtrade and other ethical labels such as Cocoa life can ensure that the brand you are buying from is working to help cacao farmers and stamp out unethical labor practices.
Vegan cocoa powder recipes
There are plenty of vegan cocoa powder recipes for you to take advantage of, from cakes to milkshakes. Here are our favorites:
Vegan chocolate avocado pudding
A rich and decadent chocolate pudding made from avocados! You'll love this sweet and simple, nutritious dessert.
Suggested read: Are donuts vegan?
Ingredients
1 average-sized ripe avocado (approx. 240 g)
1/4 cup packed, soft and moist, pitted Medjool dates (55 g)
3 tbsp cocoa powder (22 g)
2 tbsp maple syrup or agave (30 mL)
1/8 tsp sea salt, optional
1/2 tsp pure vanilla extract (optional)
Instructions
Add all ingredients to a food processor and mix until smooth and creamy, stopping to scrape down the sides is needed.
Serve immediately.
Notes
The recipe serves 2 but can easily be doubled.
This is best served fresh, however, leftovers can be stored overnight if needed.
If the mixture is too thick when blending, add almond milk 1 tbsp at a time until you reach the right consistency. Coconut milk also works well here for a creamier addition.
If your dates are on the dry side, soak them in hot water for 15 minutes then drain well before using them in the recipe.
Pudding topping ideas
I love this pudding topped with fresh berries. Other yummy topping ideas are:
Sliced banana
Blueberries
Pecans, almonds, or walnuts
Almond butter
Chocolate chips
Crumbled no-bake energy balls
Vegan chocolate brownies
Deliciously thick and fudgy vegan brownies made without butter, milk, or eggs.
Ingredients
5 tablespoons sunflower oil, plus extra for greasing
200 g dairy-free dark chocolate
170 g self-raising flour
3 heaped teaspoons cocoa powder
180 g golden caster sugar
Sea salt
1 vanilla pod
230 ml unsweetened organic soya milk
200 g pecan nuts
Instructions
Preheat the oven to 180ºC/350ºF. Grease a square baking tin (roughly 20cm) with a little oil, then line with greaseproof paper.
Place a heatproof bowl over a pan of simmering water, making sure the base doesn't touch the water. Break 150g of chocolate into the bowl and allow it to melt, then set aside to cool slightly.
Meanwhile, sieve the flour and cocoa powder into a large bowl, then stir in the sugar and a pinch of salt. Halve the vanilla pod lengthways, scrape out the seeds, then add them to the bowl. Stir in the oil, soya milk, and melted chocolate until combined.
Roughly chop and stir in the remaining chocolate and most of the pecans, reserving a few for the top. Pour the mixture into the prepared tin, spreading it out evenly. Sprinkle over the remaining pecans, then place into the hot oven for 20 to 25 minutes, or until cooked on the outside, but still gooey in the middle.
Leave to cool for around 5 minutes, turn out onto a wire cooling rack, then serve warm with a scoop of vanilla ice cream, if you're feeling extra indulgent.
Summary
The excellent news is cocoa powder is almost always vegan. The bad news is that cross-contamination means many brands cannot guarantee this.
Suggested read: 12 sweet and diabetes-friendly snacks
Still, there are many ethical vegan brands out there that go the extra mile for you and the planet. Look out for certification like the Rainforest Alliance or Fairtrade, as well as vegan logos.
So when it comes to vegan cocoa powder you really can have your cake, or brownie, and eat it.