If you've never cooked with it before, this post will tell you exactly how to cook vegan mince to make it the tastiest, plus I'll give you some ideas for tasty vegan meals to make with it.
Why you shouldn't cook your vegan mince according to the packet
If you follow the packet instructions to cook your vegan mince it will taste like the blandest, driest thing you've ever tasted. It will be horrible and will put you right off, particularly if you're comparing it to juicy beef mince.
Vegan mince naturally tastes of very little. As you cook it, it behaves the opposite way to meat mince in that rather than giving off juices, it becomes drier and drier.
However, the great thing about vegan and vegetarian mince is that it has the potential to soak up lots of sauce, becoming very juicy and saturated with the flavours of whatever you cook it in.
How to cook vegan mince
Here's how to cook vegan mince the right way:
1. Use the hob
Firstly, the hob is best. Yes, you can microwave it, but it's rare that microwaving anything is the best way to do it.
2. Add extra ingredients
Before you even think of putting your frozen vegan mince into the pan, you need to add some things to give it taste because vegan mince on its own tastes like nothing.
Onions and garlic go well with every vegan mince dish. It's always good to give them a little head start by lightly frying them in oil for a few minutes before you add the mince.
Other ingredients which tend to go well with any vegan mince dishes are mushrooms, peppers and chillies. Depending on the dish, you may also want to add kidney beans, canned mixed beans, cooked carrots, peas and sweetcorn.
Something else I would always add to vegan mince is nutritional yeast flakes. Nutritional yeast is a vegan staple ingredient that I add to pretty much everything I make.
As well as adding a nice cheesy flavour, nutritional yeast is also really good for you and high in b12, which is notoriously difficult for vegans to get. Cooking at high temperatures can destroy some of the nutrients in the yeast, so it's recommended to stir it in right at the end of cooking.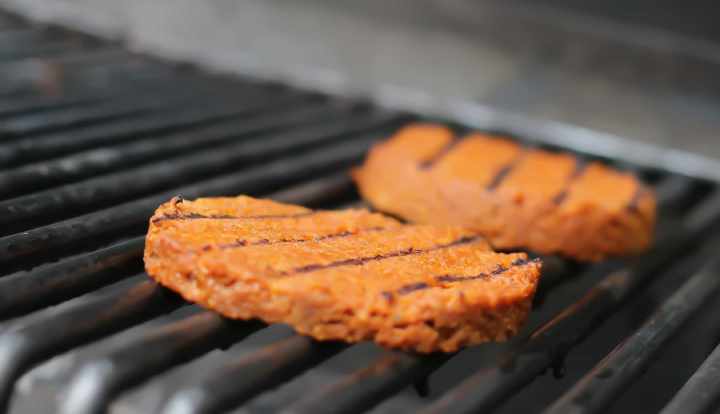 Suggested read:
Seitan: Plant-based meat alternative | Recipe
3. Add liquid
Vegan mince will always need some kind of liquid adding to keep it moist. This could be gravy, vegetable stock, passata, tomato puree or a tin of chopped tomatoes. As well as stopping your mince from drying out, your liquids also add extra flavour.
4. Add herbs and spices
At the very least you'll want to add salt and pepper and probably some dried, mixed herbs. If you're following a recipe and it calls for other herbs, add them in to give your vegan mince dish the desired flavour.
5. Don't overcook
Vegan mince doesn't usually take as long as animal mince to cook. That's because, really, all you're doing is heating it through until it's hot. There's not a lot of actual cooking required. The cooking time will vary depending on the brand and it can be anything from three to 15 minutes, so this is one thing that you will want to look at the packed for.
8 easy vegan mince recipe ideas
Here are 8 very easy to make mince recipes:
1. Lasagne
Vegan lasagne is often made by using vegetables instead of mince. But for a meatier-tasting lasagne that's closer to the original, you could use vegan mince either in addition to or instead of vegetables.
To cook your vegan mince before putting it into your lasagne, I would recommend adding a tin of chopped tomatoes, some vegan red pesto, garlic, oregano, basil, red wine, vegetable stock and nutritional yeast. Some chopped mushrooms would also be a great addition.
Suggested read: How to go vegan for a week
2. Spaghetti bolognese
To make the bolognese in vegan spaghetti bolognese, I would fry onion, carrot, celery, garlic, mushrooms in a pan before adding the vegan mince. For a juicy sauce, I would add chopped tomatoes, passata and tomato puree. Basil, oregano, nutritional yeast, salt and pepper work well for seasoning.
For an extra-special spag bol, add a large splash of red wine, some vegan Worcestershire sauce and some sundried tomatoes.
3. Cottage pie
Making a vegan cottage pie or shepherd's pie is really easy.
To make the mince base you could use onion, carrot and peas or even a bag of frozen mixed vegetables. Add your vegan mince along with tomato puree, vegetable stock, soy sauce, vegan Worcestershire sauce, nutritional yeast and salt and pepper.
For the mashed potato topping, add interest by trying different vegetables as well as plain old potatoes, like sweet potatoes, parsnips or swede. You can use any kind of plant-based milk and margarine to make the mash.
4. Mince, spinach and sweet potato curry
Mince isn't often used for curries but when you add chunky sweet potato and fresh spinach leaves for texture, it can actually be really nice.
To flavour the mince for a curry you'll need onion, ginger, chillies, tomato passata, curry powder, vegetable stock and mango. You could also stir in fresh coriander and mint leaves at the end if you wish.
Serve with lemon rice and a paratha or roti.
5. Chilli con carne
Chilli con Carne (without the 'carne' in this case) is a really versatile dish that you can serve in many ways. Enjoy it with crusty bread, in tacos, on top of nachos, with rice or on a jacket potato.
To make vegan chilli, you'll need onion, garlic, chillies, mushrooms, kidney beans, sweetcorn, tinned chopped tomatoes, tomato puree, vegetable stock, paprika, coriander, nutritional yeast, salt and pepper. Chilli goes really well with Mexican sauces which can be veganised, like guacamole and sour cream.
Suggested read: Vegan grocery list for beginners
Ingredients
1 onion large, finely chopped
3 cloves garlic finely chopped
1 can diced tomatoes
1 can beans red, black, pinto… use those you have at hand.
1 can corn or 1 cup frozen
1 cup oats
Spices and herbs
1 tsp cumin powder
1 tsp chili powder
1 tsp paprika powder
1 tsp turmeric optional
1 pinch black pepper optional
1 pinch hickory powder optional
Instructions
In a large pot or Dutch oven, heat 1 tablespoon of water (instead of oil, we are.going to water-sautée) until hot. Next, add one large onion, finely chopped, and saute until translucent. Add the 3 cloves of garlic, finely chopped as well. Stir well.
Next, add all your herbs and spices: cumin powder, paprika, and turmeric, black pepper & hickory powder if you're using them. Stir well and let the magical smells fill your kitchen.
Now it's time to add 1 can of diced tomatoes, 1 can of beans, undrained, and 1 small can of corn. Bring the chili to a simmer and then reduce the heat and simmer for 15 minutes. Adjust seasoning according to your taste. You might want to add some salt or stir in a dash of soy sauce.
Finally, here's the one last ingredient that turns an ordinary bowl of Vegan chili into a "revelation": after 15 minutes of simmering, add 1 cup of oats, stir well and turn off the heat. Let the oats soak up any liquid left. They will swell up and impart added body, richness and "meatiness" to your easy Vegan chili like never before.
6. Mince and bean burrito
The vegan mince in a burrito can be cooked using the same ingredients as chilli con carne (above). However, you'll want to add less liquid as a runny chilli won't work well in a burrito as it will be messy to eat.
Oven-baked sweet potato cubes with smoked paprika and chipotle flakes make a great addition to the burrito along with the chilli. Add some tinned mixed beans in tomato sauce, a touch of salad, some salsa and vegan sour cream and you've everything you need for a fantastic mince and bean burrito.
Suggested read: Are tortilla chips vegan?
7. Savoury mince in a jacket potato
Savoury mince is a great filling winter dish which is lovely on top of a jacket potato. The ingredients are onion, garlic, carrot, peas, sweetcorn, peppers and mushrooms, although you could add any other bits of veg than need using up.
8. Mince and onion pie
Whilst you can buy vegan mince and onion pies (not to be confused with the kind of mince pies you eat at Christmas), it's really easy to make your own.
The recipe for savoury mince works well, just make sure you don't add too much liquid so that it doesn't leak out of your pie.
For the pastry, I like to be lazy and use ready-rolled pastry to make pies as it's just so easy. However, if you want to make your own pastry from scratch, you can do it with just three ingredients – flour, salt and sunflower oil.
Summary
A packet of meat-free mince is a good staple to always have in your freezer as you can make so many dishes with it! Many omnivores say that vegan mince is one of the fake meats that tastes the most realistic. Switching to vegan mince is also an easy way to cut down on calories and fat.