Tofu is one of the best sources of good-quality vegan protein, and it's also very affordable. But some people don't like it because if it's not cooked or marinated, it doesn't really taste like anything. However, if you prepare it the right way, tofu can taste great!
Fried tofu recipe
Fried tofu is a great way to incorporate quality vegan protein into your diet and only requires 6 ingredients! Fried tofu is super flavorful, simple, and easy to prepare. Here's how to make fried tofu:
Ingredients for fried tofu
Here is what you'll need to make fried tofu:
12 ounces firm tofu (340 g), cubed
1 tbsp tamari or soy sauce
1/2 tsp garlic powder
1/2 tsp ground black pepper
3–6 tbsp cornstarch (the more you add, the crispier they get)
1–2 tbsp oil of your choice (we recommend olive oil)
How to make fried tofu
Making fried tofu is extremely simple and can be broken down into 5 steps:
Add the tofu cubes, tamari or soy sauce, garlic powder, and black pepper to a large bowl, mix until well combined, and let it rest for at least 5 minutes.
Drain the tofu and transfer 1/3 of the tofu cubes into a freezer bag with 1 or 2 tbsp of cornstarch and toss to coat. Repeat this step with the remaining tofu and cornstarch. Add more cornstarch if needed.
If you don't want to use a freezer or plastic bag, just add the cornstarch to a shallow dish, then the tofu cubes, and toss to coat.
Once the tofu cubes are coated with the cornstarch, heat the oil in a skillet and add the tofu cubes. We recommend olive oil, but any oil will do.
Cook the tofu cubes over medium-high heat until all sides are golden brown. Remove the tofu from the skillet and set it aside.
The fried tofu can be combined with dishes like vegetable tempura, sauteed kale, or bok choy.
Additional tips
Try to use firm tofu, as silken other soft tofu types don't work well for this recipe.
Feel free to add any herbs or spices to the tofu to give it a different flavor.
The tamari or soy sauce can be replaced with salt.
If you want your fried tofu super crispy, add 6 tbsp of cornstarch instead of 3 tbsp.
Onion powder or nutritional yeast is a good choice to make your tofu taste even better.
How long does the fried tofu last?
If you store the fried tofu in an airtight container in the fridge, it can last for up to 5 days.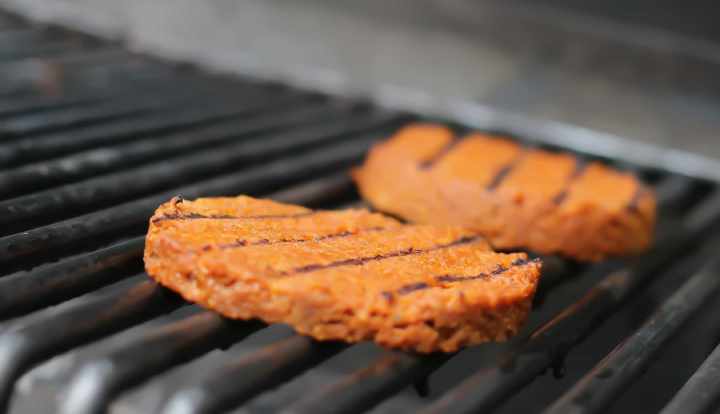 Suggested read:
Seitan: Plant-based meat alternative | Recipe
Can I freeze fried tofu?
We wouldn't recommend freezing fried tofu as the tofu will get soft and lose its crispy texture.