Al Gore
"Over a year ago I changed my diet to a vegan diet, really just to experiment to see what it was like. … Now, for many people, that choice is connected to environmental ethics and health issues and all that stuff. … In a visceral way, I felt better, so I've continued with it, and I'm likely to continue it for the rest of my life."
Alanis Morissette
The singer and songwriter switched her diet to lose weight and feel happier. "I'm back to what I was born to be, at my best… I feel very alive… I have no more aches and pains, and my allergies are gone, too," she said after giving up meat in 2009.
Albert Einstein
Einstein was a vegetarian during the last years of his life, although he had supported the idea for a long time. In a letter to Max Kariel, he said, "I have always eaten animal flesh with a somewhat guilty conscience," and soon after became a vegetarian.
Einstein's famous quote, "Nothing will benefit health or increase chances of survival on earth as the evolution to a vegetarian diet."
Alec Baldwin
After being diagnosed as pre-diabetic in 2011, actor Alec Baldwin had no choice but to amend his unhealthy lifestyle, and as a result, he turned to veganism.
Alicia Silverstone
"Once I went vegan, I lost the weight I wanted to lose, my nails were stronger, and my skin was glowing. I feel great, and I look better now than I did 11 years ago," she said.
Anthony Kiedis
The Red Hot Chilli Peppers lead singer has a soft spot in his heart for animals. A farming documentary about cows sealed the deal for him.
Ariana Grande
"I love animals more than I love most people, not kidding. But I am a firm believer in eating a full plant-based, whole food diet that can expand your life length and make you an all-around happier person."
Bill Clinton
Former US President Bill Clinton was named PETA's Person Of 2010 after he began promoting the benefits of vegan eating. He changed his habits for health reasons and thanks to the plant-based diet; he lost a whopping 24lbs.
Brad Pitt
Brad Pitt is said to have been a vegan for years, and he's an ardent animal rights activist.
Bryan Adams
Canadian-born rock star Bryan Adams has two very different sides to his life - making stadium anthems and crusading for Greenpeace and PETA.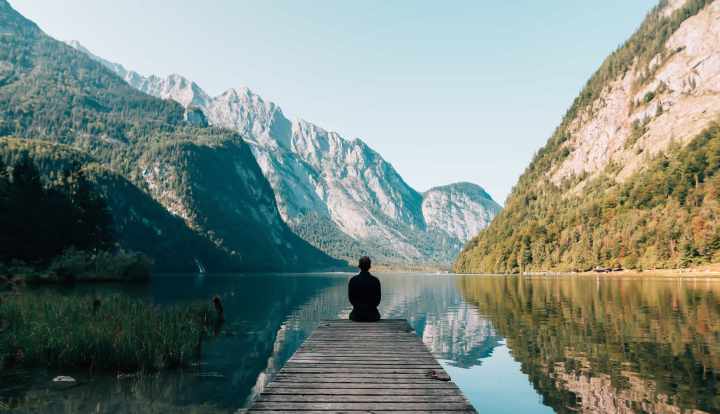 Suggested read:
80+ best vegan quotes and sayings to inspire veganism
Casey Affleck
Casey Affleck is a keen animal rights campaigner and vegan. His support stems from a childhood pet. "The first dog I had was owned by an abusive couple. He was very skittish. He wouldn't let me hold him. It was explained to me that it was because of how he was treated," he said.
Demi Moore
She has openly spoken about the struggles of maintaining her killer body and apparently, being a vegan is the way forward. She has not only embraced the meat-free, dairy-free lifestyle but she has taken it raw too.
DJ Khaled
DJ Khaled chose to be vegan for health reasons and to set an example for his two-year-old son, Asahd Tuck Khaled.
Ellen DeGeneres
In 2008 Ellen went vegan after reading Skinny Bitch and then forcing herself to watch Earthlings. She decided then that she couldn't participate in the cruelty any longer.
Emily Deschanel
The actress (and sister of actress Zooey Deschanel) has long been a vegan and a supporter of animal rights issues.
Gwyneth Paltrow
One of the most enthusiastic advocates for vegan food and healthy life nowadays is undoubtedly the Hollywood superstar Gwyneth Paltrow. She had been suffering from various health problems before switching to veganism. The result changed her life, says the actress. She says she's not feeling exhausted all the time anymore.
James Cromwell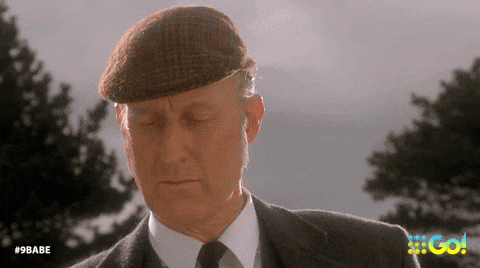 Actor James Cromwell was motivated to become a full vegan and animal advocate after playing Farmer Hoggett in "Babe". Cromwell had been a vegetarian since the mid-1970s but became an ethical vegan in 1995 while filming the movie "Babe".
Suggested read: How to go vegan as a teenager in 10 easy steps
Jamie Hince
Guitarist for the indie rock duo The Kills famously portrayed himself as a "chain-smoking vegan."
Jared Leto
Jared Leto is known as a long-time vegetarian and vegan, and a few years ago, the actor credited sleep and his plant-based diet for his youthful appearance, and for his overall health.
Jenna Dewan Tatum
Jenna Dewan Tatum gave up meat at an early age. Later in life, she was diagnosed with lactose-intolerant and has been vegan ever since.
Jennifer Lopez
Jennifer Lopez says that going vegan has given her loads of energy. "It's basically no dairy, no meat, everything is just plant-based and just from the ground. I love that I'm eating more greens. It makes you feel so much better."
Jessica Chastain
After complaining about low energy levels, the Golden Globe nominee went vegan. "I just had more energy than I've ever had in my whole life. I was just listening to what my body was telling me!"
Joaquin Phoenix
Phoenix once said, "It takes nothing away from a human to be kind to an animal." Phoenix has dedicated his life to creating a kinder world for farmed animals.
Kate and Rooney Mara
The two sisters are big supporters of veganism although Kate has professed how hard it was to overcome her love of dairy. She said: "Their biggest surprise is that I don't eat cheese anymore, and I don't blame them because cheese was definitely the hardest thing to give up."
Lea Michele
Lea Michele turned vegan for the health benefits as well as animal rights reasons. "It's about being good to your body and the planet. I'm a foodie, but I think it's much more fun to find things on the menu that are good for me," she said. PETA honored Lea in 2010 for her charity work with animals.
Leona Lewis
She leads an entirely vegan lifestyle except for some eggs. "If they've come from an ethical farm, I'll eat them, or I get eggs from my friends who have chickens."
Suggested read: How to be vegan when your family is not
Liam Hemsworth
Just like Miley Cyrus, her husband Liam decided to make the switch to veganism in early 2015 after he learned about the mistreatment of animals. His Hunger Games co-star Woody Harrelson also suggested he should try a vegan diet. Within a few months, Hemsworth was sold. "There are no negatives to eating vegan. I feel nothing but positive, mentally and physically. I love it."
Madonna
This iconic superstar follows a super strict vegan macrobiotic diet which consists of cold-pressed juices, fruits, vegetables and whole grains like quinoa.
Meghan Markle
"I'm conscious of what I eat. I try to eat vegan during the week and then have a little bit more flexibility with what I dig into on the weekends." Meghan Markle stated when was speaking to Best Health in 2016 while she was filming Suits.
Michelle Pfeiffer
Michelle did not commit to the plant-based diet straight away, saying: "I just told myself one day that I'm going to do it and I'm going to give myself eight weeks. And that I'm not going to commit on this for a lifetime because it's psychologically huge for people to wrap their minds around it".
Miley Cyrus
Miley Cyrus takes her health, vegan food, and the environment very seriously. Miley says she is a vegan for both ethical and health reasons.
Mike Tyson
Former heavyweight boxing champ Mike Tyson is now a one man show and a champion of veganism, a regimen he credits with helping him lose 140 pounds and getting him in fighting trim.
Moby
Legendary dance musician Moby has been consistently vocal about his vegan beliefs, even naming his 1996 album Animal Rights and opening a vegan café called TeaNY in New York. "Veganism should be a happy thing, not a miserable one. And we shouldn't make people feel bad or guilty for their lifestyle choices, even if they reject veganism," he said.
Natalie Portman
The Hollywood actress took a break from veganism during her pregnancy in 2011 during her pregnancy as it made her crave a lot of bakery food containing eggs and butter. She's back to it now though: "I'm vegan, and I drink a lot of water. If I have dairy, I immediately break out."
Suggested read: How to start a plant-based diet (12 great tips)
Olivia Wilde
Olivia Wilde even launched her own website to promote the vegan lifestyle she adheres to.
Pamela Anderson
PPamela Anderson has always been emotionally connected to animals. She became a vegetarian at the age of 11 as a result of her father's hunting. Later in her career, she was introduced to PETA where she was exposed to slaughterhouses, pushing her towards veganism.
Petra Nemcova
Czech model Petra Nemcova ditched meat and animal products in 2007 after learning about the planet's rapidly depleting fish stocks.
Portia De Rossi
De Rossi is married to talk show host and comedian, Ellen Degeneres, and they are both vegans.
Prince
American singer-songwriter, multi-instrumentalist, and actor who has produced ten platinum albums and thirty Top 40 singles during his career, switched to the vegan diet in 90's. In 2006, Prince was also voted Sexiest Vegetarian in People for the Ethical Treatment of Animals' annual contest.
Russell Brand
Russel Brand, another proud ambassador for PETA, tweeted in 2011 "I'm now vegan, goodbye eggs, hello Ellen." Apparently, his dramatic change of diet was sparked by the documentary Forks over Knives which explores how plant-based foods help cleanse your system and protect it from disease.
Samuel L. Jackson
Samuel L. Jackson has begun his plant-based journey in 2013 after a health scare. Since then, he has struggled to keep a strictly vegan diet facing difficulties meeting the weight requirements for specific movie roles. However, his diet remains mostly plant-based so Jackson can "live forever" as he puts it.
Serena Williams
Talking at a Wimbledon press conference, Serena said, "I was vegan, I didn't eat sugar!" The results of her change in diet didn't take effect until she stopped breastfeeding, commenting, " I lost 10 pounds in a week when I stopped. I just kept dropping."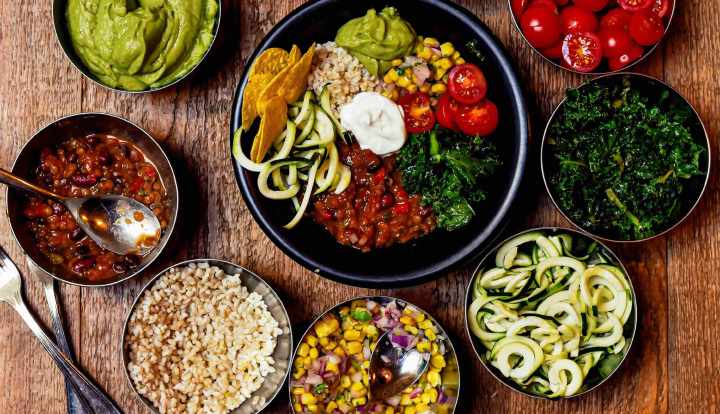 Suggested read:
Whole-foods, plant-based diet: A detailed beginner's guide
Steve-O
This famous jackass actor is also Vegan. Here is one of his statement: "I got into being vegan because I was simply looking to benefit from being more compassionate." He also is the narrator in Farm Sanctuary.
Stevie Wonder
Stevie Wonder stepped out as an advocate for going vegan when he appeared on James Corden's Carpool Karaoke and not only announced that he had been a vegan for a year and a half but loves it so much that he made a hilarious song about it during his sing-a-long car journey with James. "I like not eating meat," he said. "But I do miss the chicken."
Thom Yorke
Radiohead's Thom Yorke has long been an activist and a supporter of ecological world issues – including animal welfare.
Tobey Maguire
Although Tobey may not be considered a 100% vegan, because he does eat eggs or dairy if his movie role requires him to add weight. He was voted the world's sexiest vegetarian in 2002 by PETA, and though he breaks his diet from time to time, his love and respect for animals and his lifestyle may be considered to make him at least 90% vegan.
Will.I.AM
Will.i.am began his plant-based journey in early 2018, in a bid to take back control of his health. Since then, the rapper has become a huge advocate for all aspects of a vegan lifestyle. He has spoken out about the ethics of killing animals for food and questioned corruption in the food industry.
Woody Harrelson
Woody Harrelson is not only a vegan but also an advocate of the raw food diet. Raw foodists believe in eating fruit, veg, and nuts in its most natural form to get the maximum amount of nutrients out of them.