If you're a coffee lover, you may have a go-to creamer that adds flavor and creaminess to your daily cup of joe.
Although coffee creamers are delicious, some popular creamers are high in added sugar and contain ingredients such as high fructose corn syrup, oils, and carrageenan, as well as artificial flavors, sweeteners, and colors, which many people prefer to avoid.
For example, International Delight and Coffee Mate vanilla-flavored creamers contain 5 grams of added sugar per 1-tablespoon (15-mL) serving.
Most people use much more than the recommended serving size. As such, you could consume 10 grams — or 2.5 teaspoons — of added sugar if you use just two tablespoons (30 mL) of these creamers in your coffee.
High added sugar intake is linked to an increased risk of weight gain, metabolic syndrome, depressive symptoms, and other negative effects, so it's best to limit your added sugar intake as much as possible — including in your coffee creamer.
Fortunately, it's easy to make your own coffee creamer at home. Several low-sugar or zero-sugar premade coffee creamers are available as well.
Here are nine healthier coffee creamer alternatives.
1–4. Homemade coffee creamer alternatives
Instead of spending money on premade coffee creamers, make your own at home.
Doing so is simple and lets you control which added and left-out ingredients. The best part of making your own creamer is that you can experiment with different flavors and bases depending on your preferences.
Here are four creamers you can whip up in just a few minutes.
1. Vanilla coconut milk creamer
Canned coconut milk is a perfect base for homemade coffee creamers. It's thick and has the rich texture of store-bought creamers.
This vanilla coconut milk creamer recipe couldn't be any easier.
Simply dump a can of coconut milk into a glass jar. Then add 1–2 teaspoons (5–10 mL) of vanilla extract, seal the jar, and shake for 30 seconds. Optionally, add a small amount of sweeteners like maple syrup or honey.
Keep this mixture in your fridge for up to a week.
2. Coconut pumpkin spice creamer
This pumpkin spice creamer recipe from Thyme and Joy is essential for people who enjoy pumpkin-flavored coffee year-round.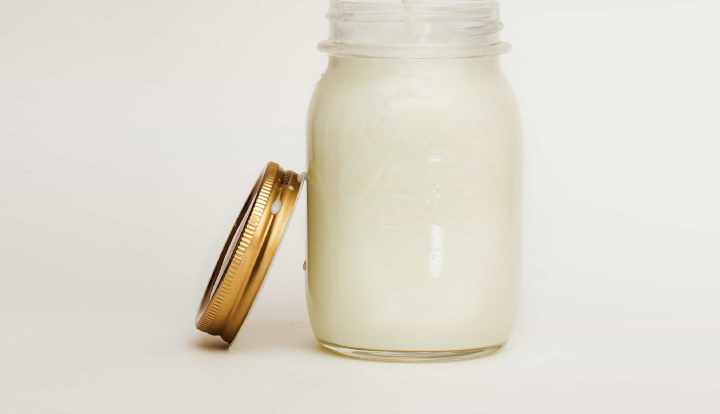 Suggested read:
How to make oat milk? Easy oat milk recipe
Ingredients
1/2 cup (120 mL) coconut cream
1/2 cup (120 mL) almond milk
1/4 cup (56 grams) pumpkin puree
1/8 teaspoon pumpkin pie spice
1/8 teaspoon ground cinnamon
1/8 teaspoon vanilla bean powder
1 pinch of sea salt
Instructions
Blend all ingredients in a high-speed blender until fully combined.
Store in an airtight container in the refrigerator for 7–10 days.
3. Date-sweetened chocolate cashew milk
Store-bought chocolate-flavored coffee creamers are often high in added sugar, but this version from Nyssa's Kitchen is made with simple ingredients and sweetened with dates, not sugar.
Ingredients
1 cup (150 grams) cashews, soaked overnight in water and drained
4 cups (945 mL) filtered water
3–4 pitted dates (or a small amount of maple syrup)
1/4 cup (30 grams) cacao powder
1 teaspoon (5 mL) vanilla extract
1/2 teaspoon ground cinnamon
1/2 teaspoon sea salt
Instructions
Rinse cashews with cold water after soaking them overnight.
Add cashews to a blender with water, dates, cacao powder, vanilla, cinnamon, and sea salt.
Blend on high for about 2 minutes, until smooth, creamy, and frothy.
Store in the refrigerator for up to 4 days.
4. Homemade powdered creamer
If you prefer powdered creamers, you'll love this homemade powdered creamer that uses coconut milk powder — though you may want to use less sweetener than the recipe calls for. (You can use milk powder instead of coconut milk powder if you'd prefer.)
Suggested read: Is almond milk healthy? Nutrition, benefits, and downsides
To make your own powdered creamer, pulse coconut milk powder in a food processor or blender with ingredients of your choice, such as cacao powder, vanilla bean powder, cinnamon, or pumpkin pie spice.
If you add a granulated sweetener like monk fruit, date sugar, or coconut sugar, blend it into a fine powder before mixing it into the coconut milk powder.
Store powdered creamer at room temperature in a sealed container.
5–9. Commercial coffee creamers
If you prefer to purchase premade coffee creamer, it's important to read the nutrition facts and ingredient lists on coffee creamer labels.
Try to choose brands that have less than 2 grams of added sugar per serving and are free of added oils, artificial colors, and high-fructose corn syrup.
Here are a few healthy store-bought coffee creamers.
5. Nut Pods
Nut Pods creamers are dairy-free and gluten-free and contain no added sugar. The company's unsweetened vanilla creamer contains just ten calories, 1 gram of fat, and zero grams of carbs per 1 tablespoon (15 mL).
In comparison, the same International Delight vanilla creamer serving has 35 calories and 5 grams of added sugar.
Nut Pods' sweetened creamers use erythritol, a sugar alcohol that doesn't affect blood sugar levels. The company's flavors include French vanilla, pumpkin spice, hazelnut, caramel, and cinnamon swirl.
6. Laird Superfood creamers
If you prefer powdered creamers, Laird Superfood creamers are a great option.
They're made with a base of macadamia nut powder plus coconut or milk powder and flavored with ingredients like Ceylon cinnamon, cacao, and Madagascar bourbon vanilla. They also contain aquamin, a seaweed-derived source of minerals such as calcium and magnesium.
Laird Superfood creamers come in unsweetened and sweetened varieties. The sweetened products contain just 2 grams of sugar per 1-tablespoon (7-gram) serving.
Suggested read: 12 sweet and diabetes-friendly snacks
7. Elmhurst oat creamers
Elmhurst is best known for its shelf-stable nut milk but also offers plant-based coffee creamers.
Its creamers are dairy-free, gluten-free, and available in various flavors.
Its unsweetened original flavor contains 0 grams of added sugar, while its French vanilla, hazelnut, and chai spice flavors have just 1 gram of added sugar per 1-tablespoon (15-mL) serving.
8. Vital Proteins collagen creamers
Vital Proteins makes coffee creamers that provide collagen protein. These coconut milk-based creamers contain 5 grams of protein and less than 1 gram of total sugar per scoop (12.5 grams) and come in mocha, coconut, and vanilla flavors.
Remember that these products contain 70 calories per scoop, so it's best to stick to a single scoop.
9. Malk Unsweetened Oat + Almond Malk Creamer
Malk makes nut milk with limited, high-quality ingredients.
This brand's Unsweetened Oat + Almond Malk Creamer contains just five ingredients — filtered water, organic, gluten-free rolled oats, organic European almonds, natural vanilla flavor, and Himalayan salt.
It provides just ten calories per 1-tablespoon (15-mL) serving.
You can find Malk products in many grocery stores, including Whole Foods.
Summary
If you're tired of your high-sugar coffee creamer, try whipping up your own using just a few simple ingredients.
Otherwise, try one of the better-for-you premade coffee creamer products listed above.
Try this today: If you can't imagine giving up your current coffee creamer, start by using less. For example, if you add three tablespoons (45 mL) of creamer to your coffee, add just one tablespoon (15 mL). This will cut your sugar intake significantly.