Are donuts vegan?
Unfortunately, most donuts are not vegan. Because most donuts are usually made using animal ingredients such as milk or eggs.
However, it's possible to have vegan donuts.
In this article, I will go into more detail about how donuts are made, and why they're generally not suitable for vegans. Additionally, I will also provide you with a few suggestions, namely of vegan donut shops that you might be able to visit, as well as vegan donut recipes you can make at home.
How are donuts made?
A donut is basically a fried ring or a ball of sweet dough that is either yeast leavened or chemically leavened. The dough is mixed and shaped, dropped into hot oil to be fried, and glazed afterward.
While the recipe may vary depending on whether the dough is yeast or chemically leavened, the ingredients remain pretty much the same, except for the leavening agent:
Flour
Baking powder or yeast (leavening agent)
Shortening
Sugar
Milk
Eggs (or egg whites)
Artificial or natural flavors
The glazing or frostings that are added once the dough is fried are a combination of flour, sugar, flavoring, and sometimes shortening, which isn't vegan since shortening is basically dairy-based butter.
Oftentimes, places like grocery stores, bakeries, or franchises use pre-packaged mixes that contain the ingredients above, but they also have to include fresh ingredients like water, milk, and eggs mid-confection.
Besides the milk and the eggs, you'll also obviously find ingredients like sugar and sometimes palm oil, which are regarded within the vegan community as being very questionable ingredients.
Even though they are clearly plant-based ingredients, things become complicated when you investigate further.
Why sugar may not be vegan
Sugar can come from two sources: sugarcane and sugar beets.
The sugar derived from sugar beets is always vegan, but the one derived from sugarcane might not be.
When refining the sugar derived from sugarcane, the sugarcanes are crushed and the juice is separated from the pulp.
Unfortunately, in some cases, that juice is filtered, processed, and bleached with a decolorizing agent called bone char, which is essentially a carbon-like property obtained by incinerating the bones of cattle.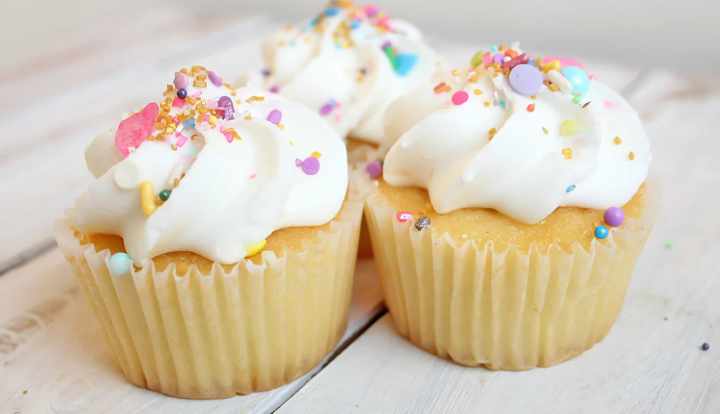 Suggested read:
Vegan baking guide
According to PETA, the bones used to create bone char comes from cattle in countries such as Afghanistan, Argentina, India, and Pakistan. The bones are sold to traders in Egypt, Scotland, and Brazil who then resell them to sugar suppliers in the United States to create bone char.
However, it's important to emphasize that not all cane sugar is processed with bone char, in fact, many suppliers are adopting plant-based alternatives such as granular carbon or ion-exchange resins. Still, it's often difficult to trace which type of sugar is being used, since a lot of companies use a mixed pool of suppliers.
For that reason, sugar may not always be considered vegan.
Palm oil is bad for the environment
Palm oil is also a plant-based ingredient. However, to create palm oil plantations, acres of forests are decimated, which includes entire ecosystems and natural habitats.
Because of this, we have a lot of species that are now endangered. One excruciating example is orangutans.
According to research, between 1999 and 2015, palm oil production has lead to the demise of 100,000 orangutans.
With that being said, palm oil isn't an ingredient that most vegans avoid. The same goes for sugar, and perhaps any other ingredient that is deemed "questionable". What I want to say is that eating or avoiding these ingredients comes down to each individual's own definition of veganism.
In end, the decision is yours, but I don't think you should be judged regardless of it.
Suggested read: Are brioche buns vegan?
How are vegan donuts made?
Like regular donuts, you'll find ingredients like all-purpose flour, sugar, and salt. However, many of the vegan donut recipes you'll find emphasize the different plant-based alternatives you can use.
To substitute the milk you can choose plant-based alternatives like soy milk, almond milk, or oat milk.
To replace the eggs, you can choose any of the following options:
Applesauce
Mashed banna
Flaxseeds or chia seeds
Vegan egg replacers
Aquafaba (the leftover liquid from boiled chickpeas)
These alternatives work very similarly to eggs in a recipe.
However, I'm not sure how the aforementioned vegan-friendly donut shops confection their donuts, but they may use some of these alternatives. I know, for a fact, that mashed banana is great to add moisture and a bit of sweetness, and flax seeds work well as a binding agent the hold the flour together.
If you want to learn how to use these ingredients to make your own vegan donuts, feel free to read the next section, as I'll share with you my 2 favorite vegan donut recipes.
2 vegan donut recipes to make at home
Vegan donuts
Soft, pillowy vegan donuts that taste like they came from a bakery! Made with yeast-risen dough and dipped in sweet vanilla glaze, these donuts will satisfy your cravings. Perfect with a cup of coffee!
Ingredients for the donuts
1 ¼ cup unflavored non-dairy milk, warmed to about 110°F
1 (7 gram) packet active dry yeast
¼ cup plus 1 teaspoon organic sugar, divided
6 tablespoons vegan butter, at room temperature
1 teaspoon vanilla extract
¾ teaspoon salt
4 cups all-purpose flour, plus more as needed
Canola or vegetable oil, for frying (you'll need at least 3 cups)
Ingredients for the glaze
3 cups organic powdered sugar
½ cup unflavored non-dairy milk
2 teaspoons vanilla extract
Ingredients for the chocolate frosting (Optional)
1 cup vegan chocolate chips
¼ cup vegan butter
2 tablespoons maple syrup
Instructions to make the donuts
Whisk the milk, yeast, and 1 teaspoon of sugar together in a small bowl or liquid measuring cup. Set it aside for about 10 minutes, until frothy.
In a large mixing bowl, beat the butter and remaining ¼ cup of sugar together with an electric mixer at high-speed until creamy, about 1 minute.
Beat in the vanilla and salt.
Begin adding the yeast mixture to the butter mixture, beating in a bit at a time at low speed. Be careful to avoid splashing.
Begin adding flour, about ½ cup at a time, beating in each addition. Switch to a spoon when the dough becomes too thick for the mixer to handle. Continue adding flour until a soft dough forms (about 3 ½ cups total).
Transfer the dough to a lightly floured work surface, and knead until smooth and elastic, about 5 minutes.
Transfer the dough to a lightly oiled mixing bowl and cover it with a damp tea towel. Place the bowl in a warm spot to rise until doubled in size, about 1 hour.
Punch the dough down, then transfer it to a lightly floured work surface. Roll the dough to about ½ inch thick.
Use a doughnut cutter or biscuit cutter to cut the dough into doughnut shapes.
Reroll the excess dough and repeat until all of the dough has been cut.
Transfer the donuts to a parchment paper-lined baking sheet. Cover them with a damp tea towel and place the baking sheet in a warm spot to rise until puffy, about 1 hour.
Fill a large pot or Dutch oven with 1 ½ to 2 inches of oil and place it over medium-high heat.
Heat the oil to about 350°F. Use a frying thermometer to monitor the temperature.
Add a few donuts to the oil, being very careful not to splash. Avoid crowding the pot.
Let the donuts cook for 1 to 2 minutes, flip and cook 1 to 2 minutes more, until golden brown on both sides and puffy.
Use a slotted spoon or tongs to remove the donuts from the pot. Transfer them to paper towel-lined plates to drain and cool.
Repeat until all of the donuts are cooked.
Instructions to make the glaze
Whisk all ingredients together in a small bowl. Add more powdered sugar if it seems too thin, more milk if it's too thick. You want it to be somewhat runny, but thick enough to coat the donuts.
Instructions to make the chocolate frosting
Melt the chocolate chips by microwaving in 30 second increments, stirring between each zap.
Stir in the butter, until melted, followed by the maple syrup.
Instructions to finish the donuts
When the donuts have almost completely cooled, dip each one in the glaze, to coat both sides.
Transfer the donuts to a wire rack for the glaze to set. I recommend placing a plate or paper towel under the rack to catch any drips.
If you're frosting your donuts, wait for the glaze to fully set, then dip the tops in the frosting. Optionally top your donuts with sprinkles, nuts, or coconut.
Allow the frosting to set, then serve.
30-minute chocolate donuts
Fluffy, baked chocolate cake donuts made in 30 minutes! Gluten-free, perfectly sweet, and topped with a simple coconut oil glaze!
Suggested read: Is gnocchi vegan?
Ingredients for the donuts
1/4 cup aquafaba (the liquid in a can of chickpeas)
1/2 cup unsweetened plain almond milk (warmed in the microwave or on stovetop)
1/4 cup melted coconut oil
1/3 cup organic cane sugar or coconut sugar (donuts are fluffier with cane sugar)
1/4 cup maple syrup or agave nectar
1 tsp pure vanilla extract
1/4 tsp sea salt
1/3 cup unsweetened applesauce (or other hearty fruit puree, such as beets)
2 tsp baking powder
1/2 tsp baking soda
3/4 cup unsweetened cocoa powder
3/4 cup almond flour
1 cup gluten-free flour blend
Ingredients for the glaze (optional)
3 Tbsp coconut oil (melted)
1 Tbsp maple syrup
5 Tbsp unsweetened cocoa powder
1 pinch sea salt
1/4 tsp vanilla extract
Instructions
Preheat oven to 375 degrees F (190 C) and lightly grease two donut pans.
To a small mixing bowl, add aquafaba and use a mixer (or whisk) to vigorously blend until soft peaks form - about 1-2 minutes. Set aside. (If yours doesn't quite whip up into soft peaks, it's OK. Just get them as fluffy as possible! A sprinkle of cream of tartar helps them firm up.)
Warm almond milk in the microwave. This way, it doesn't harden the coconut oil. Set aside.
To a large mixing bowl, add the melted coconut oil. Then add the coconut sugar, maple syrup, vanilla extract, and sea salt and whisk vigorously to combine - about 45 seconds. Then add applesauce and warmed almond milk and whisk once more to combine.
Add baking powder, baking soda, cocoa powder (sifted if clumpy), almond flour, and gluten-free flour and whisk to combine.
Lastly, add the whipped aquafaba and gently stir/whisk in, trying to be as gentle as possible. If the batter appears too thin at this point, add 1 Tbsp each almond flour or gluten-free flour at a time until it thickens up. It should be semi-thick and more scoopable than pourable.
Divide batter evenly between donut tins, filling all the way full. There should be 11-12 donuts (amount as original recipe is written // adjust if altering batch size).
Bake for 18-20 minutes or until a toothpick inserted into the center comes out clean and the top appears dry and fluffy. Time will vary if you sub ingredients.
In the meantime, make glaze (optional). To a small mixing bowl, add melted coconut oil, maple syrup, sifted cocoa powder, salt, and vanilla extract. Whisk to combine. You should have a slightly thick glaze. If too thick, thin with a little maple syrup or more coconut oil. If too thin, add cocoa powder.
Taste and adjust sweetness if needed by adding more maple syrup. Set aside. Prepare any other toppings, such as coconut flakes, cacao nibs, or sprinkles, at this time.
Remove donuts from oven and let cool for 1-2 minutes. Then grab the tins with a towel and tap on the counter 2 times to loosen. Then gently invert onto a cooling rack. Let cool for 5 minutes (the longer they cool, the more they'll firm up).
Dip in glaze. Then top with desired toppings, such as sprinkles, coconut flakes, or cacao nibs!
Best when fresh. Store cooled leftovers covered at room temperature up to 3 days or in the freezer up to 1 month (best if stored unglazed).
Summary: Most donuts are not vegan
Indeed, unfortunately, most of the regular donuts you will find are not vegan because ingredients like milk, eggs, and shortening (or butter) are used.
Suggested read: Is cocoa powder vegan?
However, that is no reason to feel disappointed. You can still eat vegan donuts!