The difference between brioche and normal bread is that brioche is a very rich bread. Whereas normal bread can be made using nothing more than flour, water, salt, and yeast, brioche also contains eggs, milk, and butter to make it tastier than standard bread.
Unfortunately, brioche buns are not vegan as they contain animal-derived ingredients like milk and eggs. However, it is possible to buy or make vegan brioche.
What is brioche?
Brioche is a type of bread that originates from France. Brioche buns are light and airy with a dark golden, flaky crust.
The ingredients commonly used in brioche are:
Brioche often contains 250g of butter and six eggs per loaf. This makes it very rich, almost akin to pastry, but not vegan-friendly at all.
Most brioche recipes include eggs, butter, and milk which makes brioche not suitable for vegans. However, vegan and dairy-free brioche buns are available in various supermarkets and vegan-friendly restaurants.
How to bake vegan brioche bread
When baking vegan brioche you can simply replace the eggs, butter, and milk with ingredients that do not come from animals.
Butter – replace with vegan margarine or olive oil
Cows milk – replace with a plant-based milk
Eggs – replace with aquafaba
Vegan brioche with aquafaba
Aquafaba is the name for the water which you get in a tin of chickpeas. Translated from French, it means 'bean water'.
When opening a can of chickpeas, most people pour the water down the drain. But this viscous liquid is a great replacer for egg white in recipes such as vegan brioche.
Be sure to scroll down for some vegan brioche recipes.
Where to buy vegan brioche
As a vegan, you'll want to avoid traditional brioche made with eggs and dairy. Luckily, there are some vegan brioche buns available now in some supermarkets. Just make sure to look out for the labels on the pack.
Vegan brioche recipes
If you enjoy baking, making your vegan brioche rolls at home could be fun to try. Here are some of the best vegan brioche recipes online:
Vegan brioche rolls recipe
For simple vegan brioche rolls that have a solid crust and a light, fluffy center, check out this recipe to make vegan brioche rolls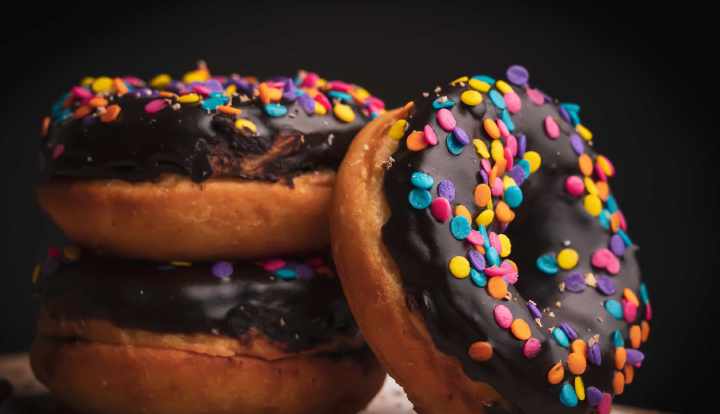 Suggested read:
Are donuts vegan?
Ingredients
270 g of strong flour
200 g of all-purpose flour
7 g sachet fast-action dried yeast
½ tsp fine salt
300 ml of almond milk + 1 tbsp for glazing
2 tbsp brown sugar
2 tbsp olive oil for glazing the bread and pan
handful of sesame seeds
Instructions
Mix the flour, yeast, salt, and sugar in a large mixing bowl.
Pour in the almond milk and stir everything together with a large wooden spoon.
When the mixture has mostly stuck together turn the mixture out onto a work surface or bread board (see picture 1 above).
Knead the mixture by holding one end of the dough in one hand and stretching it out with the other hand (see picture 2 above). You then reform the dough, turn it 90 degrees and start again. Repeat this for 10 minutes.
When the dough is shiny and smooth (see picture 3 above), put it in a large mixing bowl, coat it in a thin layer of olive oil, and cover the bowl with a tea towel.
Leave this in a warm place (but not too warm – ie not next to open fire!) for between one and two hours (until it has doubled in size).
Empty the dough onto a work surface and push the air out with your fingertips (see picture 4 above).
Cut the dough into 8 even pieces and shape each piece into a ball using your hand and the work surface (see pictures 5 and 6 above).
Lay the dough balls out on an olive oil-greased baking tray (leaving at least a 3 cm gap between them), cover with cling film, and leave for one more hour.
Preheat the oven to 210° C / 410° F.
Mix 1 tbsp of olive oil and 1 tbsp of almond milk and glaze each of the dough balls with it.
Generously sprinkle sesame seeds over each ball.
When the oven is hot, place the dough balls in the oven for 13-15 minutes (until they are lovely and golden brown).
Vegan brioche burger bun recipe
If you want to bake vegan brioche burger buns topped with poppy seeds, I recommend this recipe:
Suggested read: Vegan baking guide
Ingredients
550 g strong bread flour
350 ml water lukewarm
2 1/4 tsp dry active yeast
2 tbsp coconut oil
2 tbsp agave syrup
1 1/2 tsp salt
1 1/2 tbsp poppy seeds
Ingredients for the vegan egg wash
3 tbsp almond milk unsweetened
2 tsp agave syrup
1 tsp mustard mild
Instructions
To make the dough pour the flour into a bowl and create a well. Add the water and yeast, give it a gentle stir and let it rest at room temperature for about 10 minutes. It will be bubbly when ready.
Add the coconut oil, agave syrup, and salt and mix with a fork or hand mixer with dough hook attachments until it forms a sticky mass. Lightly dust your work surface with flour and tip the dough onto it. Knead it until it forms a soft and smooth dough. Don't add too much flour, just enough to stop it from sticking.
Grease the dough ball lightly to prevent it from sticking to the bowl and place it back into the mixing bowl. Cover it with a cloth and let it rest at room temperature for about an hour.
Tip the dough onto a very lightly dusted work surface and press it down and knead it gently a few times. Cut the dough into 8 pieces. I do that by cutting it into 4 first and then half each piece.
To shape the dough into round balls simply place it into your palm and pull the dough from the side to the center and pinch it together. Repeat until you are happy with the shape.
Place the balls onto a baking tray that is lined with baking paper. Cover them with a cloth and let them rest for another 45 minutes.
Mix the ingredients of the vegan egg wash.
Brush the unbaked buns with your vegan egg wash and sprinkle with poppy seeds.
Bake in a preheated oven for 15-18minutes at 200°C (400°F) until golden brown on the sides and lightly browned on top.
Vegan brioche loaf recipe
This vegan brioche loaf will taste amazing slathered with homemade strawberry jam.
Suggested read: Is gnocchi vegan?
Ingredients
3 cups (375g) plain or all-purpose flour, or white spelled flour*
¾ cup (190g) dairy-free milk, such as almond, soy, or coconut, warm, plus more if needed
⅔ cup (150g) vegan butter or margarine, room temperature or ½ cup (125g) olive oil
¼ cup (50g) cane sugar, or coconut sugar
1 tbsp instant dried yeast
1 tsp vanilla extract
½ tsp salt, if using unsalted butter or oil
3 tbsp maple syrup, or any other light-colored liquid sweetener
Instructions
To make the brioche dough:
Add all the ingredients except the maple syrup to a stand mixer bowl with the dough hook. Knead for at least 10 minutes or until the dough is smooth, soft, and elastic. You can also do this in a bowl and on a floured surface but it will take a little longer. The dough will be very tacky but should just come away from the sides of the bowl. If the dough is still sticking on the bowl, add a little flour and continue kneading. If the dough is too dry, add a little more milk and knead well.
Shape the dough into a smooth ball, place it back in the bowl and cover with a damp tea towel (the moisture prevents the dough from drying out). Place the dough in a WARM area to double in size (or grow by at least 50%) for at least 1 hour.
To shape the brioche:
When the dough is puffy, divide it into 4 even sections. Shape each section into a round ball and place them in a lined loaf tin (I used a 12x22 cm or 5x9 inch tin but any size tin will work). Cover the tin with a damp tea towel and leave it in a warm area to rest for at least 30 minutes. The dough should increase in size by 50% - 100%.
Baking the brioche:
When the dough is puffy again, preheat the oven to 180°C (350°F).
Bake in the oven for 30-40 minutes or until the top is golden brown. The loaf is fully cooked in the middle when you can tap the bottom and it sounds hollow. If the bread surface is browning too quickly but the bread is not fully baked, reduce the oven temperature to 160°C (320°F) or cover the bread with aluminum foil.
When the brioche is still hot, brush the top with maple syrup then rest it in the tin for 15 minutes. Turn it onto a wire rack and allow it to cool slightly.
Serve the brioche warm or heat/toast the leftovers. Store the brioche in an airtight container at room temperature for 3-5 days or in the freezer for up to 1 month.
Tips for making vegan brioche
If you want to bake your vegan brioche at home, here are some things to look out for when baking…
Suggested read: Is cocoa powder vegan?
Your vegan butter or margarine should be the kind that comes in a solid foil-wrapped block, not the spreadable kind that comes in a tub.
You can use olive oil instead of butter, but this will create a texture that's more like a cake than traditional brioche rolls
If you use olive oil, don't use extra virgin, as the flavor will be too strong
If your brioche is too sweet, use a little less sugar next time
The best milk to use when making vegan brioche is soya milk as it's the most similar to dairy milk
The best way to check if your bread is cooked in the middle is with a probe thermometer.